It must be tough being David Tanner.
It's some fall, to have once sat in the Sky Sports studios preening like Martin Bain modelling y-fronts in a Kays Catalogue to being where he is now, on the outside looking in, running a blog and trying to stay relevant to the sport.
What a comedown. Made worse by the knowledge that Kris Boyd got his job. How pathetic. How sad. How could you sleep at night with such humiliation? To lose your place must be bad enough, but when Sky then goes out and hires the village idiot?
I would crawl into a corner, pull a blanket over my head and I would not come out.
Tanner is a complete muppet.
Tonight he thought he'd be smart and comment on the Europa League draw with the observation that the team his favourite club has drawn have already beaten Celtic 4-1 home and away in the competition. Except, as we're all well aware, they didn't because there are two teams in Prague and he's thinking of the wrong one.
This deeply embarrassing dig at our club was quickly pulled … but the screengrabs were already circulating. Which is too bad for him and what's left of his reputation.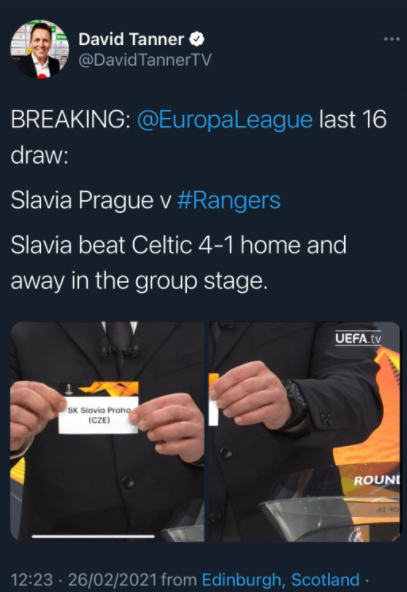 There are people in the media who you are pretty much forced to respond to in a serious fashion, even if you don't take them seriously.
People like Tom English, who got the flamethrower treatment earlier in the week for trivialising what Neil Lennon went through at the hands of Scotland's sectarian bigots just so he could have a pop at us.
But English works for the BBC and so you have to afford the institution a little respect even if you don't really feel like granting any either to them or to the man himself.
Why should we consider this clown in any way credible?
Tanner works for an organisation called Tanner TV, which presumably is him in his basement chatting to a webcam.
I don't know as I've never watched it and ain't gonna start now.
[snack-countdown title="Celtic's Countdown To Champions League Disaster" date="06/20/2021″ time="00:00:00″ colour="#000″ textColour="#FFF"]