It's amazing how many of Scotland's most desperate hacks have found their way into the new media landscape which they have spent so long disdaining. This week it was the turn of Mark "Scoop" Guidi, one of the dumbest men in Scottish sports journalism.
Appearing recently on the Go Radio Football Show, he attempted to find the most negative spin that he could about the Eddie Howe saga.
What he came up with was a possible trail away from Celtic Park which was so elaborate that Bear Grylls wouldn't have stood a chance of navigating it.
Starting with a wisdom so ancient that Tutankhamen would have recognised it as recycled guff, he stated the widely held "belief" that Howe is waiting for a club from England and that if he gets one – no matter how rank rotten – than we won't see him for dust.
But give him his due; whereas others are content to speculate only about jobs that are likely to be open, and we know roughly what they are why Howe would be mad to take any of them, Guidi dreamed up a complex scenario whereas he could end up somewhere better.
"I think there's a merry go round about to happen down in England and Eddie Howe will be in the mix. There could be four or five big changers down there," he said, this geezer who can't even tell you what's going on up in Scotland.
"I could see Brendan Rodgers ending up (at Arsenal or Tottenham) and Eddie Howe ending up at Leicester. Southampton might be up for grabs, Crystal Palace ninety-nine percent up for grabs. The England job could be available at the end of June start of July if they don't have a good Euro's. So there's all sorts getting into the mix."
[snack-countdown title="Celtic's Countdown To Champions League Disaster" date="06/20/2021″ time="00:00:00″ colour="#000″ textColour="#FFF"]
So let's see if we've got this. Tottenham or Arsenal sack their manager and reject the idea of going for the very biggest names they can find, and go instead for Brendan Rodgers. That then opens up Leicester which Howe might be more interested in.
Possible?
Yes, of course it is but not a move most people south of the border see the London clubs making.
Spurs went for Mourinho last time; they see themselves as a super-club and I don't believe for one minute that they will not go for a super-club type manager and I do not believe that's Brendan Rodgers at the current time.
These guys will want a European trophy winner, someone who's cracked the big time.
Arsenal are a club that needs to get the next decision absolutely spot on.
They know that there are only a handful of managers who can take them to the next level … and I think they'll look to one of the modern innovators, maybe even the kind of manager we should have gone for, like a Jesse Marsch or Rangnick or someone like that.
The rumour machine down south is going strong on all this stuff. It has both clubs linked with Ajax boss Erik ten Hag.
Additionally, Spurs are linked with the Wolves boss Nuno Espirito Santo and with Julian Nagelsmann; he's a very likely candidate, for both clubs.
He's the current manager of RB Leipzig, so you can understand why he's on the shortlists.
Rodgers is priced at 14-1 for the Spurs job; he's an outsider at best.
Howe, actually, is 20-1 in the betting for that job.
At Arsenal the favourite is Massimiliano Allegri … Rodgers is closer to the running there, at 3-1, which suggests only that the bookies lack imagination.
But say that it all transpires the way Guidi sees in his fevered brain and that one or both of the London big clubs – rule out Palace from this flight of fancy; Celtic is a vastly better option – sack their head coaches and are on the prowl.
Say too that in this scenario of if's buts and maybe's they forego all the continental options and one of them appoints Rodgers.
The next phase of this scheme depends on Leicester wanting Howe.
Having appointed Rodgers, they probably feel they are close to where they want to be.
They are certainties to go for someone like Marsch or Nagelsmann or ten Hag, someone seen as a genuine European football innovator, someone who's career trajectory is on the up.
And it presumes that Howe will want Leicester; just because Rodgers did, don't presume that the Englishman will as well. Leicester is just another glass ceiling, a club that has reached about the limits of where any manager is going to get them to.
The idea that Howe – out of work for a year – is getting the England job … laughable.
Finally, all of this presumes something which I don't credit one bit.
That Celtic will wait around for Howe as he waits around for a club in England.
There is absolutely no chance whatsoever that this will happen.
McKay is not coming to Parkhead early so that he can have more time to unpack his pencils.
What this comes down to is that Guidi is a bitter fool.
He was never convinced that Howe would come to Celtic in the first place, and nothing has changed his mind.
On top of that, the narrative is clearly being prepared in case Howe is unveiled that the only reason he's chosen Celtic is the lack of interest from the EPL … which sets up eternal speculation about how long he will stay.
It's all so depressingly predictable from this eejit, a man who if he ever says anything positive about our club it will be the first time he has.
Remember and vote on our Eddie Howe poll, folks … make your feelings known.
How Much Longer Should We Give Eddie Howe?
A few more days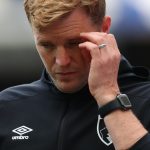 Middle of next week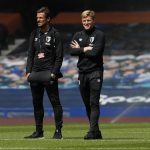 End it now and move on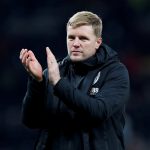 End of the season