This blog very rarely finds itself in agreement with Davie Provan, and I suspect that many of the readers don't either, but he made an interesting statement on a radio show earlier which I thought was worth getting supporter opinions on.
His point was on Leigh Griffiths and he offered the suggestion that Celtic might need the player for the next campaign, and that he wouldn't be surprised if the next manager didn't realise that right away.
The thing is, he might even have a point.
It's something we've discussed before. Can Leigh Griffiths manage to pull off a career resurrection one last time? Or is this a bridge too far even for Lazarus?
There is no doubting his talent. There is no doubting his record.
But there are serious question marks over his professionalism and his commitment. Is a three quarters fit Griffiths too good to ignore? Or does a new broom at Parkhead simply sweep him out the door?
[snack-countdown title="Celtic's Countdown To Champions League Disaster" date="06/20/2021″ time="00:00:00″ colour="#000″ textColour="#FFF"]
I see the merit in both arguments. I wonder if we can afford to give even a one-year contract extension to a player who has given us so little in the last few years.
I strongly suspect that the mood to do so, inside Celtic Park, is something close to zero.
But look at the state we are in. We know that Griffiths will sign a new deal in the blink of an eye.
We know he wants to end his career at Celtic Park.
Lennon threw him under a bus, and he was only the first player that happened to.
He didn't help his own cause, though, with the way he showed up for pre-season training. He never does himself any favours.
A new manager who shows him the love might find that it works better than the verbal beating in a public forum does. Griffiths has always needed love and understanding and he has always responded better to it than he has to the whip.
I thought Rodgers was the kind of manager to understand that, but he actually didn't … or perhaps Griffiths tested him too much.
He will be at Celtic when the new manager comes in, and the decision will belong to him. Provan may well be right that losing Griffiths on top of the gutting of the squad would be a step too far for anyone taking over.
But he may be wrong as well.
I'd like to know what you think of it.
So cast your votes below, friends, and tell me what you think.
Should Celtic Have Given Griffiths One More Chance?
No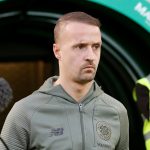 Yes