According to the journalist Alan Nixon – as I said in the McAvennie piece yesterday, one of the few individuals out there who actually has spoken to people inside Celtic Park on the issue of the manager – Eddie Howe is indeed "stalling" on his Celtic move.
But Nixon also nods in the direction of stories from the weekend about how he wants his backroom team in with him, by suggesting he has a "legit reason" for taking so long over it.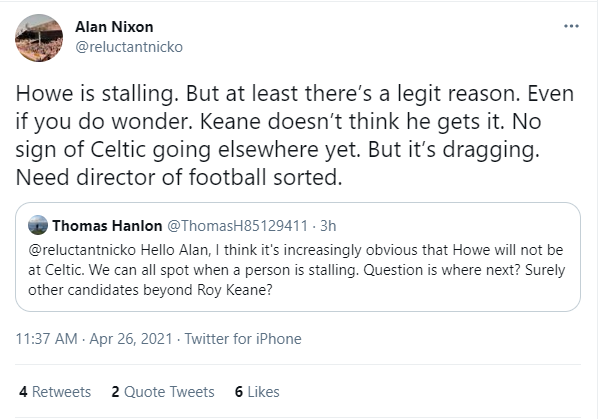 Now, the fans may not necessarily agree that Howe and the club should be dragging this out, but what Nixon's update suggests is that Howe isn't waiting around for another offer, he's just waiting around to find out if his trusted team can join him here.
It's easy to say that Celtic should simply commit to writing the cheques for these guys, but we don't actually know how big those cheques might be. It could well be that Howe's backroom team prices us out of this move.
The question is, whether we should be waiting.
Howe's reasons, if indeed that's what these are, seem like perfectly good ones.
As Nixon says, they are entirely "legit."
He has an idea of who he wants around him, and so waiting until Bournemouth's status is confirmed and the cost of these guys is known wouldn't be an issue if we were facing a relatively stable summer.
But of course, we're not, are we?
We've got a rapidly shrinking window in which to bring this guy (or some guy) in and start rebuilding this team. Champions League qualifiers march towards us at their own unrelenting pace.
We need to be ready for them and right now we're not even close to being able to say that we are.
Howe may have the luxury of taking his time but does Celtic?
Even if you assume, as I do, that we must have more than just the guy saying "yeah, I'm interested" to go on here, nothing is official until there's a contract with all the signatures on it.
Nixon thinks Keane has given up hope of getting it; that suggests that we've just about got Howe over the line.
The question now for me is what if Howe doesn't get these guys?
Is he committed to joining the club even without that?
Because if he is then that's something at least … if he isn't then we're in the perverse position of betting our own future on whether another club makes it to the EPL … and that would be as stupid and reckless as anything we've ever done.