Today we got some positive news – at last – on the managerial situation, and it came again from Peter Lawwell's pet journalist Stephen McGowan of the Scottish Daily Mail. I spoke earlier about the growing number of people who'd like to see Kennedy given a chance … if McGowan has it right Celtic is still pretty confident that Howe will be the man.
I was asked on Twitter the other day whether I still believed it would be Howe, and in spite of having to write a number of increasingly angry articles about the time this is taking I do still believe that. I don't think he would favour a Palace or Newcastle or Brighton more than a move to Celtic; let's be realistic, apart from money what is there to credit such a move?
Now it might be that money is all that motivates Howe, but the truth is he could have come back to football management any time he liked in the past year if that was the thing for him. He's had offers. When he talked about wanting "the right club" he seemed, to me, to be suggesting that he's had it with the relegation battling and simply getting by.
With all respect to the clubs in question, that's all he will ever achieve with them. The man seems to have more about him than that. It's his agents who have made this rod for his back, his "advisors". It's no wonder that so football fans actually trust these people.
There are things to be ironed out; of course there are. But McGowan, speaking on the radio, has suggested that both parties are still very relaxed about where things stand. He also suggested that Hughes will probably join Celtic but not as Director of Football.
[snack-countdown title="Celtic's Countdown To Champions League Disaster" date="06/20/2021″ time="00:00:00″ colour="#000″ textColour="#FFF"]
He scorched the idea, promoted by some in the media, that this would be Howe "picking his own boss." That's always been a ludicrous suggestion. The Director of Football and the manager should be a partnership. The Director of Football isn't the guy who hires the manager nor fires him. They work together, and although Celtic still wants to bring in someone else, there is a place for Hughes as the head of scouting or some other such role.
Howe only wants people around him who he knows and trusts. That's perfectly valid and, as we've said before, it's a reasonable enough request and one, furthermore, which every manager who we try to appoint is going to make. There's no sense in denying Howe what every reputable coach will want, unless we're not planning to hire a reputable coach.
On one hand, I find it incredible if people inside Celtic are not concerned about the length of time that this is taking. I find it incredible that we're carrying on as if totally oblivious to the ticking clock in the background or even just the possibility that this could go wrong.
As I said previously, if Howe is a man of integrity we are entitled to believe that a verbal agreement and a handshake deal are worth the same as a contract signed, sealed and delivered … but I also thought that this would have been resolved already.
And maybe it has. It might well be that the three announcements theory which I proposed at the start of the week is sound, and that Howe roll into town alongside McKay and our Director of Football candidate, who will probably be Fergal Harkin.
According to McGowan, we do seem to have our hearts set on appointing one of the board's preferred candidates for that job, with Hughes coming in somewhere else on the ladder. So it might be that much of the work is done and only formal announcements remain.
Uncertainty is a killer though.
The team is already being dismantled, and that does suggest that there is some guiding hand behind the scenes doing at least one half of the job … it's the other half of the job that hasn't started yet and can't formally get started until someone has the gig.
If people inside Celtic are still relaxed about it we have had assurances which aren't in the public domain and which the board evidently believes are iron clad. Or we're actually panicking and not letting the likes of McGowan know that.
I still think we'll get the deal for Eddie Howe across the line. It's how long it takes us to make the formal announcement that still worries me. I think it's clear that it has to happen before the season ticket renewal forms go out, or we'll be lucky to sell the number that we need … and McKay's appearance from Monday should speed things up a little too.
Speculation isn't doing anybody any good, and this includes Howe himself who may think he has the benefit of a "bird in the hand" but in fact, if the club feels it is being messed about then the board will certainly pull the plug and move on to something else.
The media will squeal about how Howe holds all the cards – I read this nonsense a week ago from Keevins – but the truth is we have a few to play on our own. Every deal is a negotiation and if there are still negotiations going on then McGowan's revelation that everyone is fairly relaxed about them does suggest they are proceeding well.
Time will tell, but time is not on our side. We will all feel better when this deal is complete. We will all feel better just knowing one way or the other. But it's good to hear that the club still feels that this is in all in hand. It means we can focus on Sunday in a better frame of mind.
Remember and vote on our Eddie Howe poll, folks … make your feelings known.
How Much Longer Should We Give Eddie Howe?
A few more days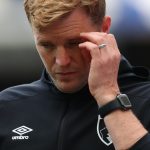 Middle of next week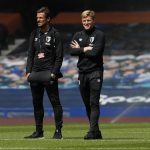 End it now and move on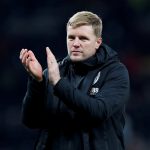 End of the season