The Daily Record, ever on the look-out for controversy, even when they have to invent it, took a shot at us today because we supposedly poked Ibrox with a sharp stick with the way we commemorated the behaviour of our fans in Seville, on the 18th anniversary.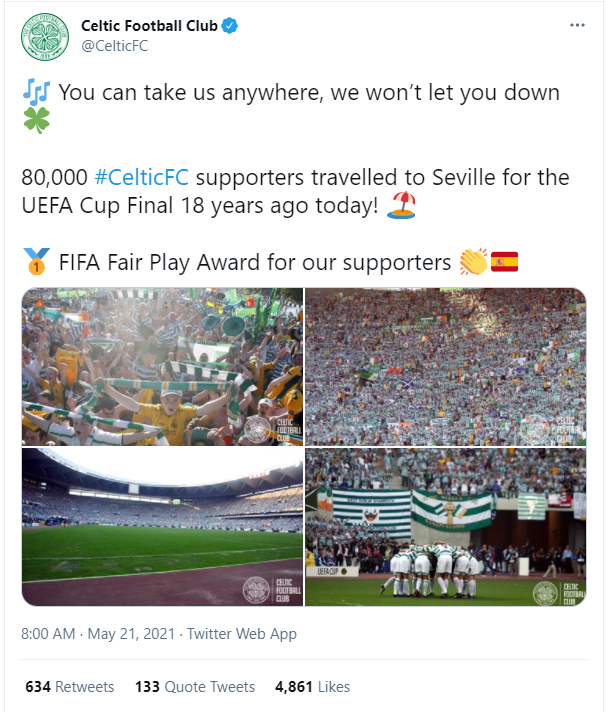 Reading the tweet which they deemed worthy of coverage in this way, it's obvious how petty that rag is being over it.
All it does is expresses pride in our own fans for their magnificent behaviour and their brilliant ambassadorship for the club. Seville will forever be a high point for many supporters, the absolute proof that we are the best fans in the world.
Who said so? UEFA and FIFA and everyone connected with the city of Seville.
Put simply, the tweet was a celebration of our own triumph and our own excellent record.
See, we don't see the world in the same way as they do over at Ibrox … we celebrate our own achievements and our own reputation; we don't feel a constant need to assert our superiority over anybody, or view everything through the lens of spite. It is possible for us to be proud of something without caring how it reflects on someone else.
If people chose to take it as a dig at them, I suggest they either feel guilt or shame over something and are simply projecting it.
The Record certainly is.
What that paper is determined to do is deflect from its own role in those shameful scenes last weekend and that won't be easy because it promoted the "party" and provided extensive coverage of it all day long until it went bad … or bad enough, at least, for the police to finally move in and start to enforce the law.
But The Record's culpability goes back a lot further than that; they have been making excuses for the Ibrox fans for years, whether that's pushing this "small minority" garbage or the fiction that other club's fans were involved, or that it was "outside agitators" … if they had been willing to write about this stuff honestly the world would not have seen thug followers of the club attacking the police in their own city. The utter lunacy of pandering to these Peepul has been made manifest.
You know what? Even if Celtic's social media team were taking a gentle stab at them, so what?
They more than earned it, and it's a good way of reminding the world that this is not a "Scottish problem" or a "Glasgow problem" or even a "football problem" … this is an Ibrox problem, and their responsibility alone.
They are a breed apart, and it does no harm to spread that message far and wide.