Tom English, failed rugby writer turned Kris Boyd impersonator, was at it again yesterday when he actually blamed Eddie Howe for Bournemouth's failure to get to the play-off finals.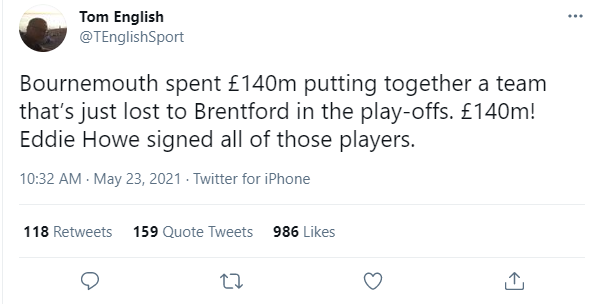 Yes, you read that correctly; he blamed last year's manager for this year's failure.
If you wanted a clear sign that Eddie Howe is definitely on the way to Celtic Park you could not have asked for a better one than this clown feeling the need to take such a shot at him for something nobody else in the known universe holds him accountable for.
Aside from anything the tweet isn't even factually correct; the team that played the match didn't cost that at all, having lost over £80 million worth of talent since dropping a division.
Howe's spending at the club was done over a period of five years; it's a drop in the bucket compared to what other clubs have spent.
Notice that English has never once examined what the current Ibrox "success story" is built on, but I'd stipulate if you gave even a modestly endowed Aberdeen manager £30 million to spend in three seasons that he would at least make a go of challenging for the title. But some managers are allowed to spend money and others aren't, it seems.
And apparently you can now blame managers no longer at the club for failure.
Does this mean that you can credit managers no longer at a club with success?
Where do we end with this? If our midfield plays well next season, is that down to Scott Brown?
Honestly, English is a pitiful little man at times, always striving to be controversial, but at heart he shoots at soft targets and never sticks his neck out for the big stuff.
Where's his editorial on the events of last weekend, or his exhortation to the Ibrox club to do more?
This is his limit; snarking and sniping from the side-lines but basically risking nothing.
That's a coward, to me.
Most Celtic fans on Twitter agree; he's taking a bit of pasting from them for his remarks. 
He deserves every bit of it.