There is a swirl of rumours today that suggest we've terminated the contract of Leigh Griffiths.
A lot of us presumed that the new manager would get to make this call after watching him in training, but it's perfectly possible that he's taken one look at Griffiths record and charge-sheet and made it already.
That would not surprise me.
I have thought that it was unlikely that Postecoglou – who is known to be a strict disciplinarian – would look at Griffiths in training and conclude that this was a player who'd cut it under him.
Whoever took over as manager would going to have a decision to make there, and you could argue that this is part of the problem; Leigh Griffiths, if fit and switched on, should not leave any room for making a decision.
His continued employment would be a no brainer.
But we know that Leigh has issues, many issues, and that one of them is an inability to meet the standards demanded by his coaches.
Lennon is not the only one who has had this problem, and Steve Clarke clearly doesn't believe he should be representing Scotland either. Griffiths' talent has never been in doubt.
It's all the rest of it that's up for grabs.
The stories today come from a tweet which Leigh's brother put out, calling him a "free agent."
It's not news that I necessarily wanted to hear, because it just increases the size of the job we ought to have started months ago.
But I can't really call it a shock.
Leigh Griffiths was probably finished at Celtic a while ago, and hard-headed realism doesn't allow for sentiment or anything else.
Giving this guy a new contract is a bigger risk than doing without him, and whilst it's not clear yet whether this is something we've actually done or just a stupid internet rumour that so many of us have accepted it as a fact and don't mind it much is telling.
Should Celtic Have Given Griffiths One More Chance?
No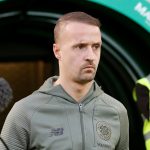 Yes