If you've checked the papers this morning, you'll know we're in the midst of yet another series of Ibrox transfer delusions. Their club needs to sell. It is massively important if they are to get through the season without another bizarre round of equity confetti.
There are two quite brilliant and hilarious, stories doing the rounds.
Neither is good for them the point of view of needing to sell. The first is genuinely laugh-out-loud; they've had a confirmed bid for the Romania wonder boy Hagi, but some reports say it's as low as £4 million.
This is the player they try to convince themselves constantly is a superstar.
They want £9 million for him, which nobody realistically wants to pay.
Have you noticed that this is still much less than the crazier figures they were throwing around not that long ago? What happened to £20 million? £30 million? Even £9 million is pie in the sky and the clubs mentioned are hilarious.
Who believes Sevilla would want to pay for a one-hit wonder like this, a guy who can't get into their team on a regular basis?
The Sun was next up, and they were trying to drum up some interest in Kamara by proposing that CSKA Moscow had bid £10 million. Again, you'll notice that this a far cry from the lunatic sums they were talking about for him earlier in the year.
But alas for the hacks trying to do Ibrox's job of drumming up interest in its dreck; there are still a handful of actual sports journalists out there, and one of them is Anthony Joseph of Sky, who was able to report that Sky had spoken to the Russians.
This was his reply to the Sun's barmy report.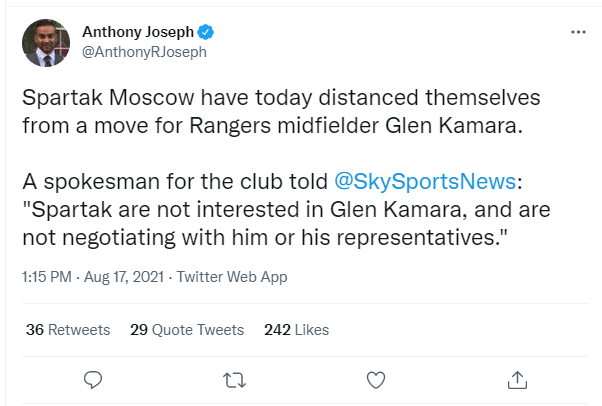 A total repudiation of the nonsense in The Sun's article.
The media is trying to spark interest in Ibrox's players. Valuations – almost realistic valuations, amazingly – are being bandied about. The smell of desperation is in the air over there and the media is doing its bit as usual.
But the important thing is that nobody outside of Ibrox believes even the lesser fees they are asking for are realistic, and if they can't make at least one major sale before the window shuts … well, we're in for an interesting couple of months.