Today one of the dumber Ibrox fan-sites was gleeful over the VAR meeting, and wrote it up as if it was their club's idea, as if the concept itself sprung from a Sevconian brain.
"We have a seat at the table!" this site screamed from its headline, as if there weren't another eleven seats around that table, one for every team in the league.
I cannot understand what it is that they are so happy about.
This is the best thing to happen to our club – ours, not theirs – in years.
This is a game-changer. How many key decisions in their games have wound up being reversed by the compliance officer? How many elbows and fly kicks and nasty little off the ball incidents have been "missed" by officials only to be caught later?
How many dodgy penalties? How many bent red cards? How many 50/50's that refs "got wrong" in the "heat of the moment."
This is what Celtic fans have clamoured for a long, long time. This is what we've always said would make a difference.
I know some of our fans still don't believe that.
But we will force refs either to make the right decisions or to defend the really diabolical, unfathomable ones. Imagine if Beaton has to watch the same thing five or six times and trying to get away with making a dodgy call?
Perhaps then we'd get some real scrutiny of the whole process and even reform.
Celtic fans should be over the moon, and one of our former players in the media knows it and summed it up quite brilliantly tonight.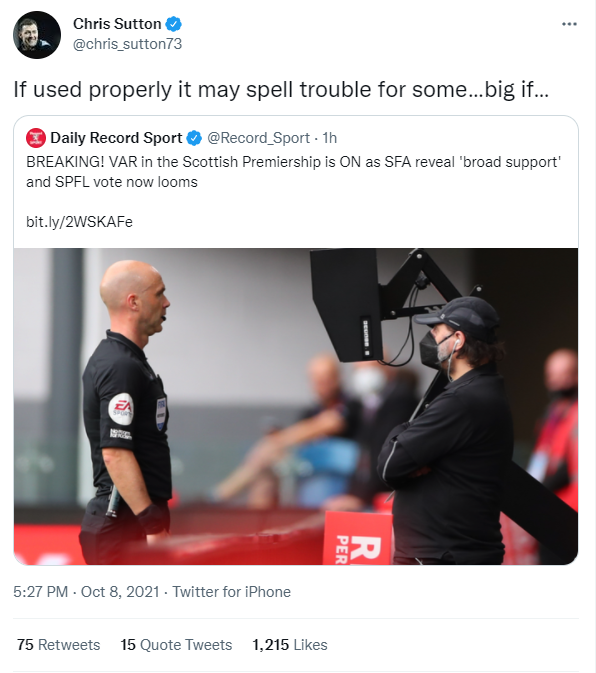 His central point is correct, of course; that big IF.
But he is in the media, and so it's up to him and to people like him to see that it is.
It's up to them to put that pressure on officials who, even with the benefit of technology, still "get things wrong."
It is up to people like him to press for answers … he has a mainstream gig, he can use it to see that proper implementation happens. This is one of the reasons I believe that this will work. Too many people are watching.
If some on the other side of the city think that kind of scrutiny will end up in their favour, I reckon they are dead wrong.
This is a good day for Celtic, and big Sutton is well aware of that.