Tonight, PFA Scotland has leaped into the latest Kamara incident feet first with a statement condemning the alleged racist booing of the player last night.
Let's remember, this was booing. By schoolchildren.
This was a player who's been at the centre of high profile smears against an entire country being booed by kids in that country.
That's what we're talking about here.
The reaction to his being booed is beyond hysterical.
It has, as I said earlier, already provoked an international incident wherein the British ambassador is being summoned to discuss why the media here and certain others are judging an entire country based on the actions of one footballer and some goons in the stands at previous games.
Now the PFA is standing by the player.
Which they should if they think this represented racism, which is, if you'll pardon me for using the phrase, a grey area issues more than a black and white one. The charge of racism is an allegation, and I think quite an unreasonable one given that it was kids who were in the ground. People around this need to get a grip.
But I find PFA Scotland's sudden jump into life interesting for another reason; they did not utter a single word in support of Kyogo Furuhashi when he was the subject of racist chanting by Ibrox fans, who were subsequently banned by the club for it.
I named them at the time, amongst a number of other organisations – including the SFA – who remained mute throughout. In that case there was not the slightest doubt that racist chanting had happened.
Show Racism The Red Card Scotland were quick to condemn it.
By neither the Scottish Football Association or the players union uttered a word.
The SFA, by the way, has jumped into this in the person of Marvin Bartley, their diversity officer who apparently takes an interest in what bands can play at private functions in his spare time … tonight he's been accused, correctly, of slandering the whole of the Czech Republic.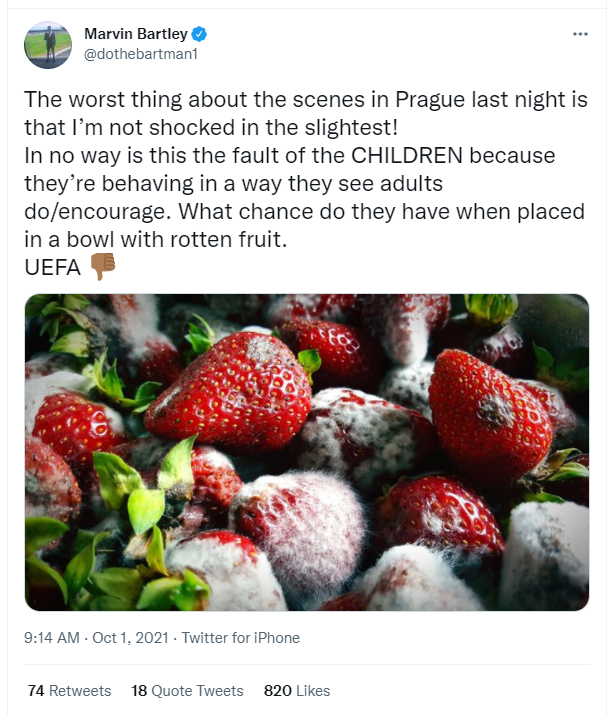 This has led senior politicians in that country to condemn him and demand that this is further explained by the ambassador … and the SFA should be asked to weigh in on it as well.
But tonight I want to ask this instead; if the PFA has a definition of racism which doesn't include anti-Asian slurs.
Or perhaps it simply has a definition which doesn't cover Celtic players.
I am glad that they have told Kamara, for the second time, that he has their support if he feels he's been racially abused.
That's as it should be.
But where was the support for our player when he suffered the same?
We got silence, and it was as deafening then as their condemnation is tonight.
And Celtic, and Kyogo Furuhashi, deserve an explanation for why there's an obvious double standard here.