Yesterday, as most of you are aware, Celtic won comfortably and the manager was interviewed on BBC Radio Scotland by Alastair Lamont.
The first question he was asked – whether the manager thought we deserved the points – clearly pissed him off.
And as ever, Ange snapped back.
"Do you not think?" he asked, and Lamont, of course bottled it and tried to push the question back to him. Ange answered it quite brilliantly. He focussed on the players and on the performance.
Of course we damned well deserved it.
But Lamont wasn't finished yet.
"We were saying in commentary that, by his own standards, Kyogo was maybe having a quieter game than usual, finding it a little bit difficult to get into the game, but it was some way to announce himself into the game. The first goal was a thing of beauty, almost."
Ange, by now well and truly fed up, responded, dripping with sarcasm, "It definitely must have been a half-glass full commentary today …"
Do you think he has any doubts that these people wish us ill?
Do you think he has any doubts that the first warning he was given from fan media –and how that point was mocked at the time, but not by those of us who were glad that the point was made –that these people are not friends of our club?
Ange has experienced it first-hand now.
The press is a disgrace.
You'll recall that I did a piece the day before yesterday, on how The Daily Record has brought an ex-Hearts and Dundee Utd managerial nobody out of the woodwork to say why we'd lost the game?
Examine the contrast between that and how they've handled the game across the city which is taking place tomorrow.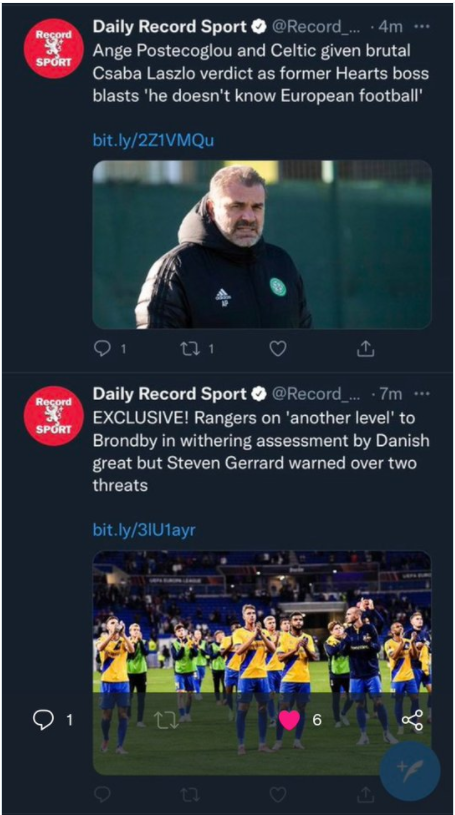 These people are a joke, and our manager is starting to realise it.
He has already made it clear to them that they won't get away with anything.
Some will try their luck though, and when they do they will be spanked like naughty children.
I wrote about the BBC earlier in the week, after watching their weekend highlights package and being stunned at the obvious bias in the editing. Lamont's questions last night make you wonder whether that policy is more widespread than just in the cutting room.
Ange does too. He's starting to know who his enemies are.