Saudi's Rule Out Gerrard So As Not To Make "Enemies" At Ibrox: An Exclusive By Keith Jackass.
This reporter can exclusively reveal that the Saudi Arabian government has decided not to move for Steven Gerrard as the next manager of Newcastle United because they are afraid of making enemies at Ibrox.
This decision has been arrived at reluctantly but the insanely wealthy and powerful oil oligarchy know that drawing the ire of Douglas Park, the Union Bears and the club's other fan groups is the last thing they need as they try to rebuild their global image.
The Saudi government, which overnight could bring the world to its knees with an oil embargo, who handle internal dissent with beheadings and who were accused recently of murdering a journalist in their own embassy in Turkey are determined to act with utter ruthlessness in the sphere of football.
But after taking soundings they agree that doing battle with the Ibrox board and their fans in their pursuit of global icon Gerrard is a step too far.
"We see them as a key rival, and we don't want to make enemies there," one Saudi insider told this reporter last night over double malts in a Govan bar.
A source at Ibrox said, "We've been talking to them recently and we've made it clear that we would view any approach for Steven as a hostile act requiring a full retaliatory response. If they thought protests from Reporters Without Borders and Amnesty International were tough, well they've clearly never been picketed by Scottish Protestants Against Discrimination, and that's what's coming their way if they don't back off. That amongst other things."
Other options include boycotts of Saudi products. Douglas Park, the owner of both a coach fleet and numerous car showrooms is said to be considering taking all the engines out of his vehicles in a move that could send the price of the precious commodity crashing.
There is also talk of switching Ibrox's central heating system to wind technology.
We reached out to officials at Celtic, to ask how they feel about having to face the mighty Ibrox boss for at least another year.
"I'm not all that bothered, mate, if I'm being honest," a senior Parkhead figure told me. "I think I'm gonna clean his bloody clock for him, so bring it on."
Here's the thing guys …
I've been writing the Keith Jackass spoof pieces for a good couple of years now, and no matter how ridiculous I try to make them, there are people who believe that they are real. Normally I never, ever, ever comment on that … so why am I doing it this time?
Because, believe it or not, this one actually is real.
Partly real anyway.
Obviously I made up the quotes, but the basic idea of this story – that the Saudi Arabian government would love to have Steven Gerrard as the Newcastle manager but consider the Ibrox club one of their big rivals and do not want to "make enemies" of them by taking him – is the quite unbelievable claim made by a Scottish "journalist" last night, and I profoundly apologise to everyone in the profession who actually merits that title.
Below is a segment of a Daily Record article, by a writer called Darren Lewis, about how Eddie Howe is in the frame for the job.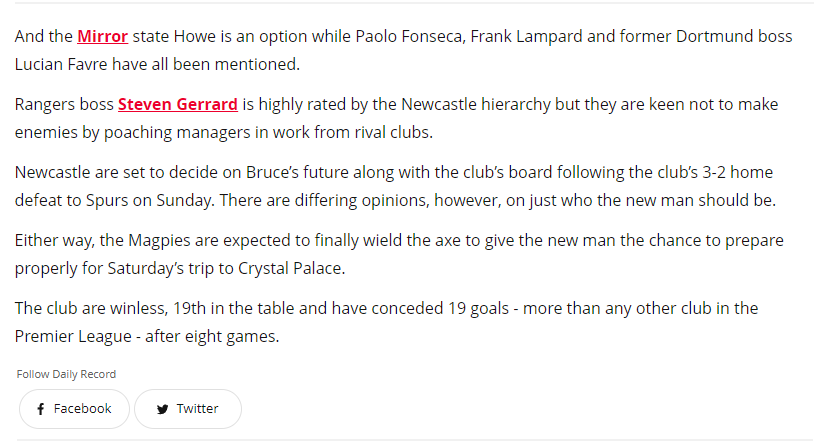 I actually burst out laughing when I read that.
I have to really reach for the exaggeration in these articles sometimes because the greater the exaggeration the funnier it is and the least likely it is that somebody is going to ask me why I'm published Keith Jackson's work on my own blog.
But I didn't even have to try particularly hard here. The jokes in this one virtually wrote themselves because the starting premise is so utterly outrageous that nothing I wrote could possibly have reached its sublime heights of ridiculousness.
All I did here was take the idea to its natural conclusion.
It seems clear to me that this is why people occasionally mistake the Keith Jackass pieces for the real thing … because The Record and its desperate writing staff are capable of exceeding my ability to satirise them.
You could not make this up.