Tonight my friend at Vital Celtic, Paddy Sinat, has published a piece about Roger Mitchell, the former CEO of the SPL, who has had another incontinent rant about Celtic and our fans.
Describing, in the headline, Mitchell's comments as "moonhowling nonsense", the piece is about a tweet he sent out at the weekend.
I would have spotted this sooner, but after his last idiotic ramblings, in the aftermath of the Ferencvaros game, I told him it was an example of what I had previously highlighted – his tendency to say whatever crap popped into his head without thinking – and he blocked me.
Such is the way that this successful businessman, with his knowledge of the media and football handles criticism.
Like a pygmy. Like a small man who just can't take it.
Mitchell's comments after Ferencvaros were frankly ridiculous and he deserved every word that was directed at him by myself and the wider Celtic support. His comments at the weekend were even stupider, even more crass, and ridiculous.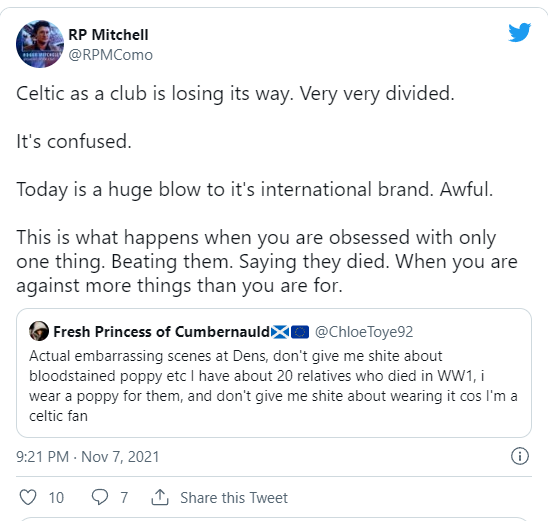 Look at that would you. A divided club. Why? Because some fans threw tennis balls onto the pitch? As I've pointed out, in some of the ways that matter Celtic is more unified than it has been in a while, at least in terms of guys getting behind the team.
Do we have arguments with the board? Absolutely. Would we like to see major changes? Yes we would. But all of us will still defend this club against unprovoked attacks and this kind of nonsensical commentary. Because that's what it is; nonsensical.
A blow to our international brand? For opposing imperialism? For refusing to get behind a toxic ceremony, which one part of this country tries to force feed the other? Outside of this horrible little island standing up against the bonkers militarism and British exceptionalism with which this whole thing has become interlaced actually increases our prestige.
Outside of this country the only people who care are those who salute Celtic for being one of the few clubs which refuses to wear that symbol on the shirt.
As to being obsessed with one thing, – "beating them" -, there are plenty of Celtic fans who will say that in fact our club hasn't done enough to beat them. I personally want to see them beat like the proverbial rented mule and our board hasn't done nearly enough to keep them in their place, which is under our boot. Most Celtic fans would agree.
And what exactly is wrong with "saying they died"?
They did die.
Is he denying that? Is he now punting the Survival Lie, like a Celtic director writing an obit? Perhaps he missed the furore over that. Perhaps he missed that our club is all over the place on this issue but that the fans are pretty much standing united on the side of the facts. Of the truth.
As to be against more things than you are for, I'm for one thing; Celtic. I'm against one thing; anything that stands in the way of Celtic.
It's really that simple.
It's really that straightforward and all he's doing with this kind of rambling, incontinent tripe is making himself sound like an idiot.