Wait a second … let me catch my breath ….
OMFG YESSS!!!!!!!!!!
I had to get that out of the way first … now, let's begin.
Mark my words, in another part of town they were celebrating an early Xmas present tonight before their proverbial Santa got stuck up the proverbial chimney.
Before the games had kicked off tonight I know they were telling themselves that this was the night we might slip up.
When we took the early lead you'd have heard the grumbles of disquiet.
"This mob are determined to hang on."
And then we conceded, then lost a player to a red card (more on that later, you better believe it) and the game went deep into overtime.
Their own game was done. I presume they won it.
I know they were winning because the "Ross County fan" on the stream kept telling us they were. Doubtless they were in fine mood.
And then it all went shatteringly wrong. Because this team just won't quit.
There is something about winning in adversity which is wonderful. Winning in adversity seven minutes into time added on is probably one of the sweetest feelings there is.
Knowing the impact that result will have not just on Celtic but on other clubs … that is even better still.
The best of all possible worlds you might say.
That is a big, big night for us, for this team, for this title race, for this manager and for us as the fans. We earned a night like this for believing in this side, for keeping on believing even when the press and others were telling us that we were mad to do so.
I am delighted for the boss and for everyone in his charge tonight.
I am delighted for Starfelt, the victim of one of the most ridiculous sending offs I've ever witnessed and one that Celtic absolutely must not take lying down.
I am delighted for Abada, our first scorer and massively thrilled for Ralston who got that glorious last ditch winner.
I am delighted for Moffat who ends his first competitive game as a winner.
I am thrilled for the fans who were at the game and for all of us who watched it at home.
I am especially pleased that one over-excited hack at a toxic rag of a paper posted his piece much too early …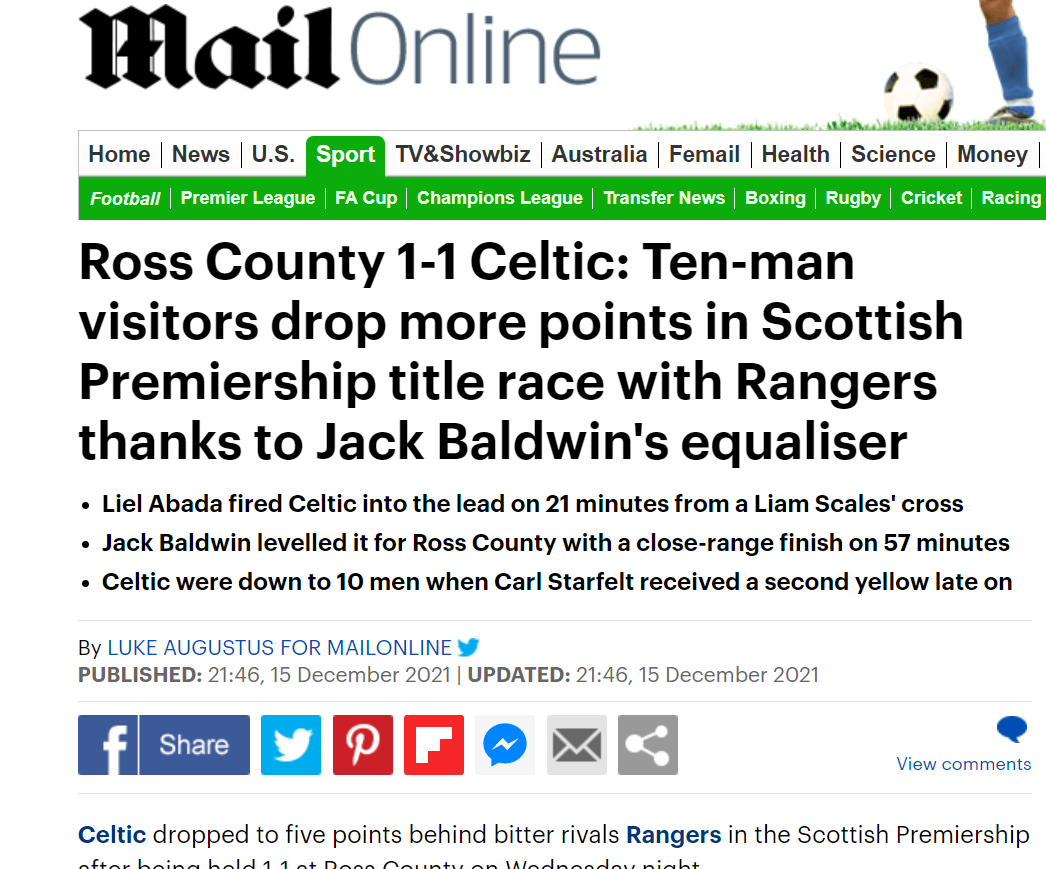 That could have ended differently.
This side could have chucked it and taken the draw.
But there is a belief in this team and a will to win which is propelling us on even amidst this injury crisis.
Mark my words friends, when we look back at the end of the season this will be the regarded as the night which turned it. If feels like a big, big result and a massive three points.
This feels like a game-changer. A turning point.
Not just three points but something that shakes the firmament.
This team wants this title.
This team will fight to the last breath.