You have to laugh.
This afternoon, Ross County are reportedly investigating their own fans for sectarian singing directed at our players after we scored the winner on Wednesday. Not surprising in the least.
This country is full of bigoted fans who's only recourse when Celtic win is to resort to this disgusting behaviour.
It's not just confined to Ibrox and its environs.
Now that this story has broken, a lot of people need to climb back into their wee box and give it a rest with their anti-Celtic rot.
In particular, I would hope that Malky Mackay gets a grip on himself.
He dare not utter another word about our fans when his own are now accused of this. He dare not criticise them either; his own past comments were just as bad and should have locked him out of football forever.
He's very lucky he still has a job.
It shouldn't surprise us that the reaction to our win has been an outbreak of mass hysteria. Referees got it in the neck by people who couldn't imagine why we got so much injury time. (I'll give them a clue; the fourth official counted the stoppages.)
The fans coming onto the pitch broke the self-control of some of them, but then fans shouldn't on the park as we all know.
But there's exaggeration and there's …. well, this.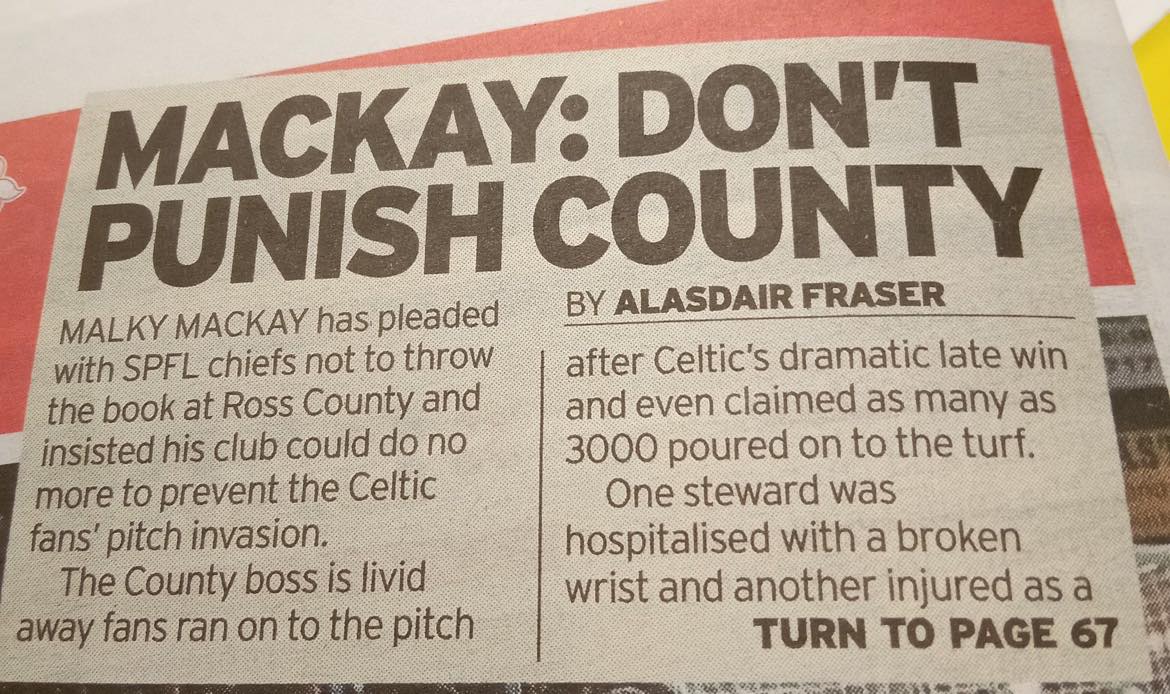 That is not an exaggeration. That is fantasy land stuff. 3000 fans came onto the park?
Were there even 3000 fans in that stand? Who writes this stuff?
Is their desire to take a shot at us so overwhelming that they don't care how ridiculous they look in their fury? How did that number ever get past an editor? How did a journalist accept that?
Every time you think these people have climbed to the summit of their irrationality they produce something that makes you think we might still be in the valley of madness instead of peering from the top of the mountain.
That is an embarrassing claim, disproved by the simple act of looking at the pictures as it happened.
But then, we could have said the same about the "seventh minute of injury time" garbage which was so prevalent until somebody pointed out that we got five extra seconds and this was visible on the TV footage.
These people are a joke.