At certain stages over the last ten years, the life-span of the Ibrox club, I used to wonder if the slow unravelling of their supporters would eventually lead to a full-on break with reality. Somewhere along the line it did.
They aren't even slightly connected to it anymore.
Their entire club basks in the half-light of madness and delusion but the fans especially.
Now I wonder if the steady progress of Ange's Celtic team isn't having the same impact on some sections of the Scottish sports media. It is remarkable how much some of them have morphed, over this campaign, into snivelling little bitches, wailing and whining and chewing the scenery after almost every Celtic win these days.
Some of these people are most definitely heading for Hidden Hills.
Over the course of this campaign, we've seen the manager targeted. We've seen Kyogo branded a diver and a cheat. We've seen certain players marked out for hatchet jobs; when one rises above them the press moves on to a new target.
All this is fairly standard stuff, of course.
But on several occasions, the press has gone full-bore psycho on us, such as Ange being asked if our defeat in the Champions League was "catastrophic" – this in the midst of a global pandemic which has killed more than 5 million people.
Or how about just any time we get a decision in a match these days?
Have you ever seen or heard the moon being howled at with such intensity or frequency as in the last few months? My God, wolves in Canada must be hearing this and wondering if they should come to the aid of their stricken cousins.
Last night, the reaction to our last minute winner was absolutely astounding.
Pat Bonner, a former Celtic player, wanted to talk about the fans on the pitch. Jane Lewis wants an SPFL investigation; presumably it will go the same way as the investigations into the several times Ibrox fans did the same at small away grounds over the last few years? But such investigations would actually need to have taken place, which they didn't.
David Tanner – still smarting from losing his job to Kris Boyd, desperate to stay relevant – wants a "behavioural audit" whatever in God's name that means. He should start with his own, after making up quotes from Neil Lennon a season ago.
Now he wants Ange held accountable for behaviour in the stands … incredible.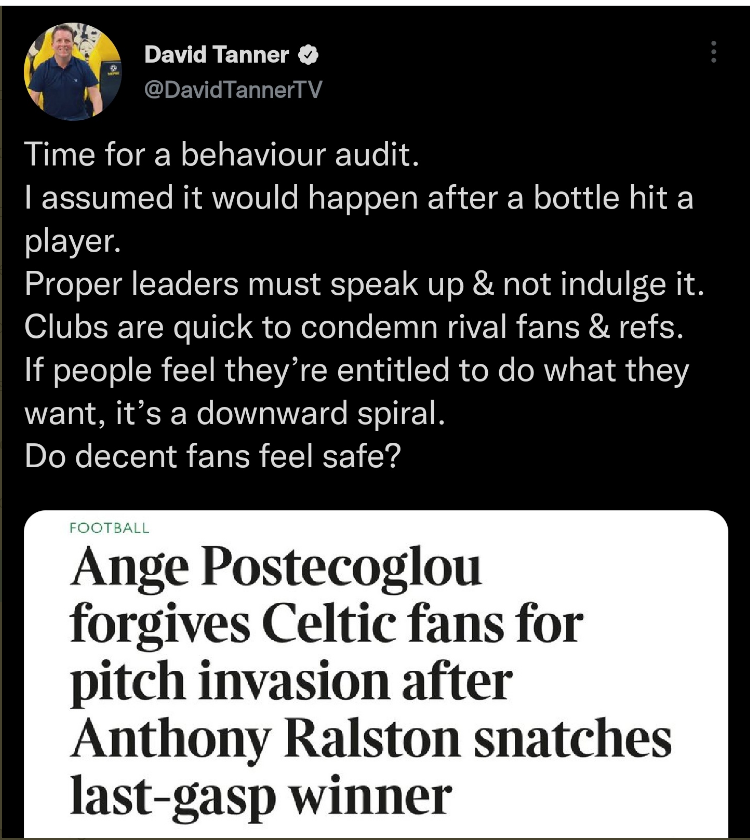 There was little scrutiny of the dire refereeing except that he added an extra minute on at the end of the game, in which Celtic scored.
But then if you listen carefully to what is said every time those boards go up, the number on them represents a minimum of time added on and takes no account of stoppages and time-wasting after the clock starts to run.
By my reckoning Muir got it spot on; about the only thing that he did get spot on in the whole night, because the rest of his decision making was a joke. Let's not forget; we were the ones going hell for leather with ten men. That time added on could have produced a Ross County winner had Mackay had a yard of guts. But he doesn't.
Quite how anybody can argue, with a straight face, that he added on "time for Celtic to score" when he sent off Starfelt in such shocking circumstances and denied us a stone-wall penalty before we got the winner … well, you need to be a practicing follower of Big Brother, well versed in the principles doublethink, to pull that off.
And then there's Tom English, Lord Chickenshit himself.
Remember the etymology?
It's a military term, so says Paul Fussell, the American historian; it means "petty harassment of the weak by the strong; open scrimmage for power and authority and prestige; sadism thinly disguised as necessary discipline; a constant 'paying off of old scores'; and insistence on the letter rather than the spirit of the ordinances … Chickenshit is so called—instead of horse—or bull—or elephant shit—because it is small-minded and ignoble and takes the trivial seriously."
I could spend a hundred years pondering the Mind of Tom English and even with the aid of his psychological profile (can you even imagine?) I could would never come up with anything more on the nose as a description of that man's mentality than that.
Small-minded, ignoble and takes the trivial seriously …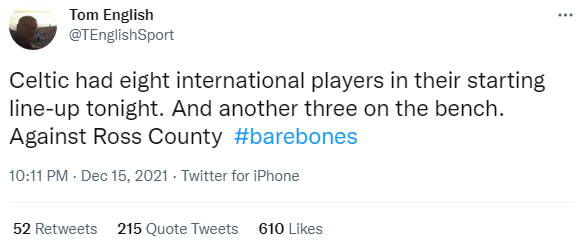 His snarking tweet last night about our "team of internationals" reeks of it.
It reeks of spite and bias and a man who's hurting. It reeks of fear.
But it also has the heady, sweaty smell of someone who's started to unspool, as many of his colleagues definitely have.
"Amazing," I wrote some weeks ago now, "how decisions in favour of Celtic finally interests the press in the standard of refereeing." I had no idea that a national inquiry was about to conducted into a couple we would subsequently get against Hearts.
I had no idea that this was just one manifestation of the fragmenting of minds and spirits taking place in the newsrooms.
One hack last night was so keen to break out the vodka and start celebrating that he posted his piece hilariously early.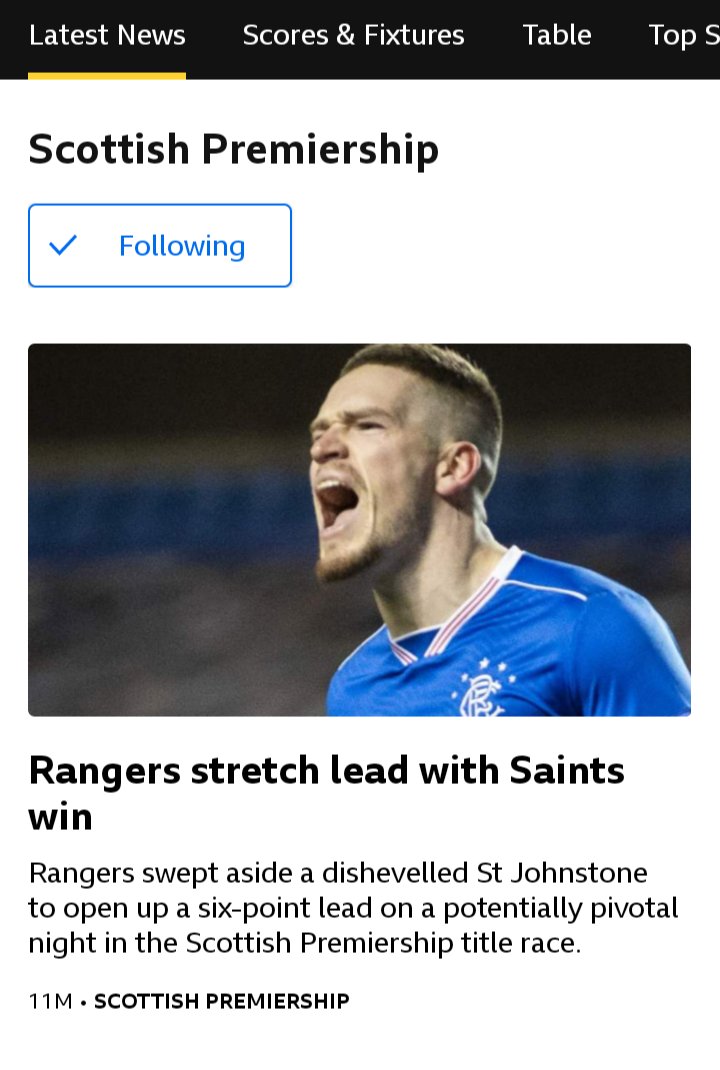 Awww and I bet you thought I was talking about this guy, eah?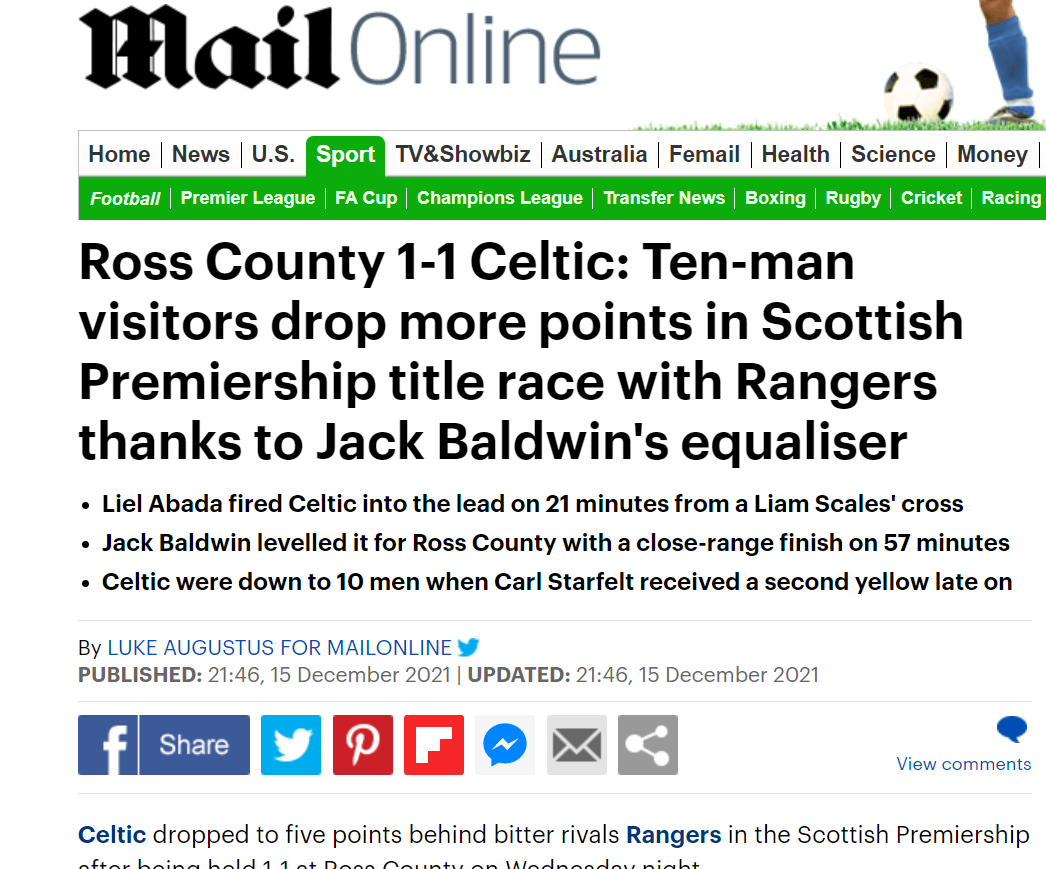 Nope. The first was from the BBC … and so was this.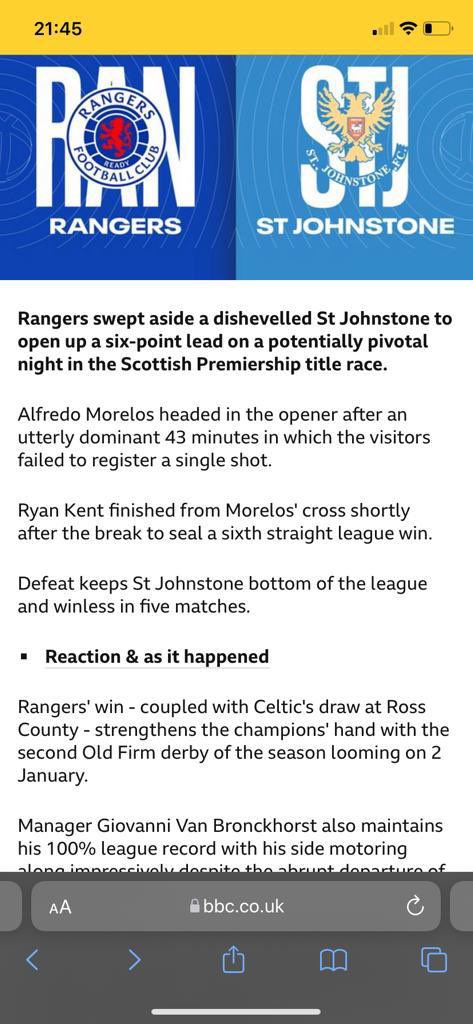 These all might have taken down but enough of us have saved them that their authors needn't have bothered.
The madness is rampaging through their ranks, and there's something … amusing about that.
Of all the tweets I saw last night, one sums this stuff up better than anything else.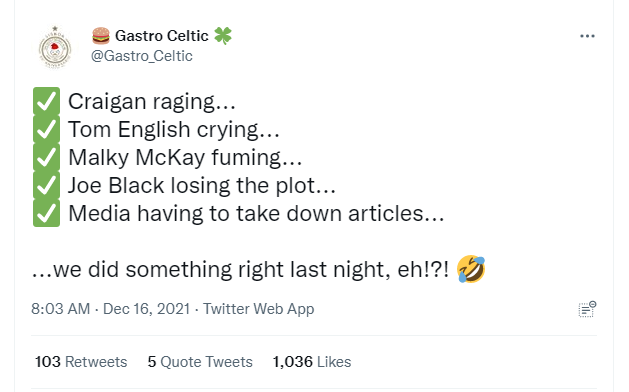 And so say all of us.