Celtic social media had another great laugh today as one of the two clubs which voted against bringing forward the winter break – and would therefore have locked fans out of grounds – actually sent out a tweet to welcome back their supporters!
Ross County sent out this tweet this afternoon, "Time for you all to come home! FANS ARE BACK!"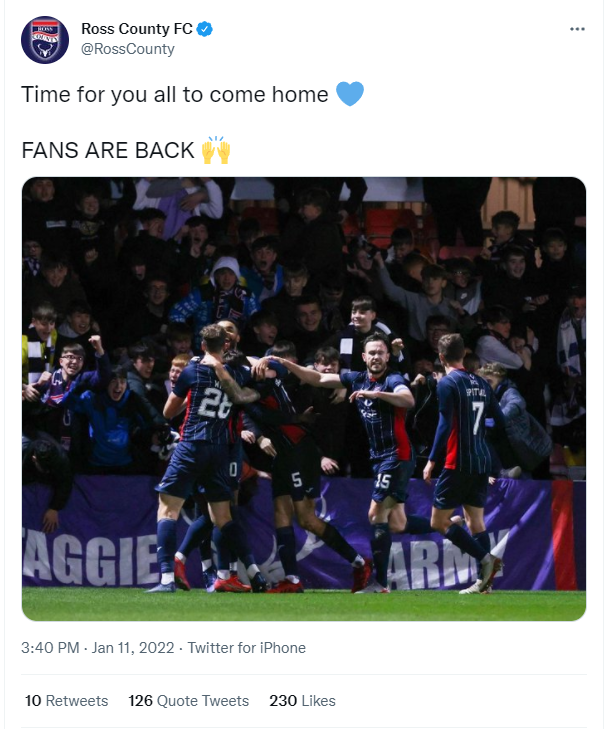 And that, of course, got the predictable response from our fans, whose club actually fought for their rights to be in stadiums by being the proposers of the motion to protect them.
When we say "football is nothing without the fans" we actually mean.
Our supporters certainly let them know their feelings on this.
Why you celebrating ya rancid cLInts? You didn't want fans.

— You OK hun? (@Hahahasevco1) January 11, 2022
Did you not vote with the ibrox club for no fans?

— Cluster One (@ClusterOne2) January 12, 2022
Thought you didn't want any ???

— #oneclubsince1888 (@PMullen67) January 11, 2022
Shame you voted to lock your fans out eg?

Makes this celebration a tad empty I'd suggest

— Brendan Furuhashi & la bass (@chooblivesok) January 12, 2022
— LouMun ??? (@lfmunro) January 11, 2022
And it went on and on and on …
Nobody at Ross County should have been remotely surprised to be the victims of this scorn.
I understand what the Ibrox agenda was; we all do. I don't know what Ross County stood to get out of locking their own supporters out of grounds; it's not like they are worried about extended cup runs or European football.
It seems bizarre to me.
I mean, surely Ibrox didn't go shopping around for allies and they just said "Aye, count us in?"
Celtic and the other clubs have been vindicated.
The Ibrox club and Ross County have been made to look ridiculous.
But you can't get more ridiculous than this.
No shame at all.