An early evening announcement on Celtic's Twitter feed has said that Kris Boyd's comments about Callum McGregor, which this site commented on earlier today, are "being addressed by the club."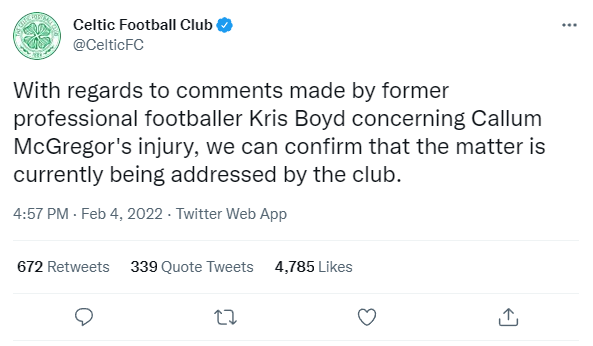 This is obviously excellent news and should be welcomed by all fans.
The club will not publicly comment further, and nor would I expect them to.
This is too serious an issue for them to talk openly about how they've resolved to deal with this, but you can believe that the response will be robust. It could not have been otherwise.
Celtic is not a club that shouts these things from the rooftops.
I expected there to be a response, but it would have been typical of the club to have played it low-key.
That is not a criticism, it's a statement of fact on the way we do things.
There are right and wrong aspects of that, which are too deep to go into in a piece like this one. That the club has actually made a public comment at all is significant in itself, and a measure of how angry people inside Parkhead are.
Boyd has a reputation for saying things that are absolutely ridiculous.
He sometimes does it to get a reaction.
At other times he does it because his level of bitterness is such that he just can't help himself.
This was not one of those times. Boyd wrote this in a newspaper column.
He had plenty of time to think about what he was going to say, and afterwards before its publication had plenty of time in which to reconsider and ask for that line to be removed.
The onus is also, of course, on his editors to see that stuff like that does not make it into print. This was not Boyd alone, they have to take some responsibility for these deplorable views as they were the ones who allowed publication of them.
But it really does beggar belief that an ex-professional footballer thought that was an appropriate thing to put in a mainstream piece. It heaps shame on the media companies which employ him, as it was always likely to at some point.
Honestly, those who pay this guy need to seriously analyse their own policies and their own role in allowing him a voice.
No other individual in the mainstream press would ever have uttered such sentiments; it is high time they considered his future employment in that light, and in light of any further disgrace he might heap on them in the future.
Celtic have done the right thing, and I'm sure I speak for all of us when I congratulate and thank the club for dealing with this matter in such a clear and public way.