The clownish Ewan Murray has had another bitter dig at Celtic tonight for no reason at all other than he has a platform and can't help using it to pursue his favourite hobby; slagging our club for something, or for nothing at all.
Murray is a Hearts fan, and he's spent much of this season in whinge about a throw in.
This is his latest.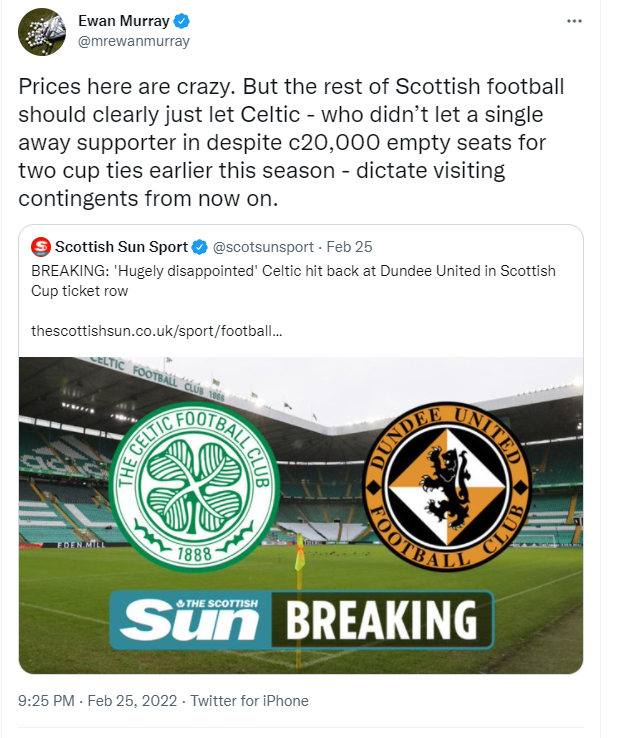 Joe McHugh of VideoCelts, who has just published a piece on this, has highlighted some of his other tweets on us from earlier in the campaign. He can't help himself.
He writes for The Guardian, which means he's smarter and better at what he does than the desperate hacks at The Record and elsewhere, but this shameless anti-Celtic slant seeps into his columns from time to time and taints them.
Tonight's dig is over the ticketing situation for the Scottish Cup game at Tannadice.
There's no purpose to his rant; it's a tough situation and in my view a much more complicated one than he makes out. Celtic isn't trying to get its own way; if we were Police Scotland would have been our first target instead of United themselves, as they are the ones who are shoving us up there on a Monday night for reasons nobody seems able to explain.
The arguments over pricing are hypocritical coming from one of the SPLF clubs which has traditionally massively over-charged us, and the number of tickets is a joke but one that ultimately is on Dundee Utd themselves as it will cost them money.
His dig at our own ticketing policies for the Scottish Cup is valid; it's something some of the blogs have written about, but his sarcastic suggestion that we should be allowed to decide policy for other clubs reeks of "Unseen Fenian Hand" paranoia.