Celtic fans have long been suspicious of BBC Sports Scotland, and in particular the way it has become a retirement home for ex-Ibrox footballers and all the better if they have EBT's.
That the national broadcaster is propping these people up when they've defrauded the tax-paying public is only one of the many issues we have with it.
The other issue is bias, which is why Kenny McIntyre's recent bizarre behaviour has drawn so much interest on Twitter and elsewhere.
Since "declaring" himself – not that he needed to – on 31 January any residual attempt at maintaining neutrality has been lost.
He doesn't even try anymore.
What's worse, as the January tweet proves, he never really did.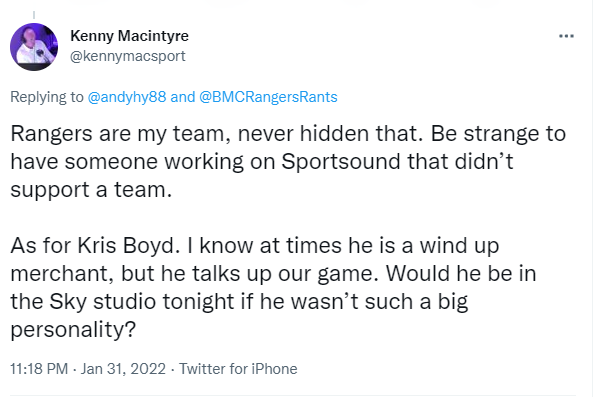 That tweet is a distillation of everything is wrong with Scottish football coverage.
McIntyre is correct to say that there's nothing wrong with having an allegiance – we're not talking about referees here controlling games on which manager's jobs, fans hopes and millions of pounds rest at the end of the day.
But coverage should be objective and honest.
McIntyre seems to think there's some merit in never having hidden those allegiances.
But a professional is supposed to.
He's not, as I am, running a blog on Scottish football viewed through the lens of one club. He's supposed to reflect all opinions and points of view. He is supposed to give everyone a fair shake, and equal scrutiny.
But by his own admission he's never even tried to do that, and now that he's openly declared what he is he seems to think that he now has license to act as a paid mouthpiece for the club he supporters … paid by you and me, not the club itself.
His praise for Boyd in the same tweet is equally preposterous.
He has mistaken an ability to generate controversy for the ability to analyse and interpret events.
Because McIntyre feels no requirement to be unbiased, why is it a problem that Boyd can't be?
As McIntyre upholds no standards, why shouldn't the studios fill up with halfwits who offer nothing constructive?
Does he think the antics of the "wind up merchants" represents journalism?
It is an appalling thing to suggest.
This creep of naked partisanship into our sports coverage has been noticed – and commented on – over and over again. But it was almost alien to broadcast journalism until recently, and then the likes of Boyd started popping up and being given faux credibility.
Now, from Alex Rae making a fool of himself on radio to the Village Idiot smirking his way through coverage on Sky it is almost everywhere, and all it does is devalue the whole crucible of debate and discussion.
How do you "debate" or "discuss" events with a partisan goon who can barely string a complete sentence together?
The dwindling handful of pros gamely soldier on as all around them the shambling rambling zombies lurch and drool and moan.
McIntyre's tweet shows that the mentality of those who cover the game has changed; they no longer believe they have to be neutral, balanced and objective; well so be it.
Clubs like the one at Ibrox think they thrive best in the absence of scrutiny and when sycophancy is the order of the day.
Succulent lamb journalism is back, but the club doling out the portions has cut them in half and downgraded the menu; these hacks don't even get re-heated leftovers, but they are content with what's in the bowl.
Slavish servility comes at a lower price than ever.
And this is how trust in journalism dies, killed by men like McIntyre, freely admitting their lack of basic professionalism, owning up to bias and allowing that to taint everything.
No wonder Celtic fans do not trust these people; we can't, and we know we can't.
How can we, when they don't even try to hide what they are?