For the second time today, I'm writing about an atrocious Daily Record fluff piece, so pro-Ibrox that it drips red, white and blue. It's about how the win over Annan showed their "strength in depth" and boasted about the "two teams" Van Bronckhorst could have fielded.
It is typical of the pro-Ibrox press to write this kind of nonsense when our own squad has never been stronger.
Having read it I thought I would have a go putting our own two elevens out on the park, and you know what? I reckon our two teams would beat either of theirs hands down. I think we now have far and away the stronger team.
So let's do it, shall we? Let's look at our own strength in depth.
The first starting eleven there pretty much picks itself; I've gone with what is recognised, or would be, as our strongest eleven at the moment with Hart, Juranovic, Carter Vickers, Starfelt, Taylor, McGregor, Hatate, Rogic, Abada, Kyogo and Jota.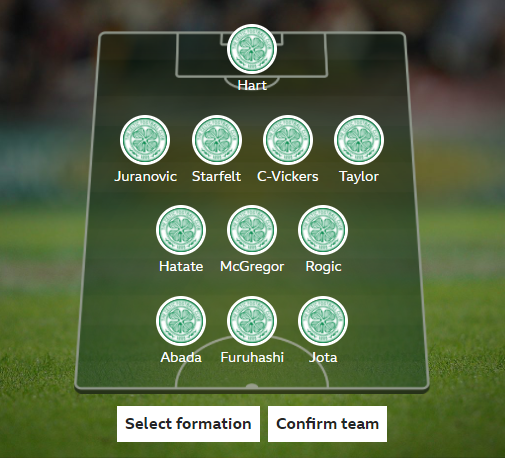 No real arguments there, except for those who might not think we should be played Taylor at left back.
Plenty of scope for debate on that.
It's a great team, one that is comfortably good enough to beat any team in this country.
But the second string aren't slouches either in that regard.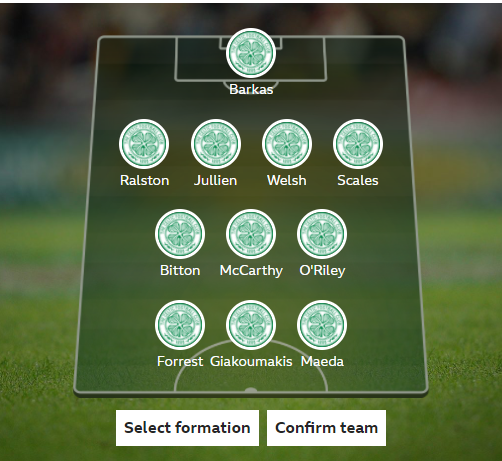 For that, I've gone for Barkas over Bain, as he's an international, with Ralston at right back and a central defensive partnership of Welsh and Jullien, with Scales on the left. Central midfield is a feast of options, and I've picked Bitton, Turnbull and O'Riley. Up front, I've gone with Forrest on the right, Giakoumakis in the middle and Maeda wide left.
I think that team would also comfortably beat any team in the league, including either of the so-called Ibrox elevens.
Much is made in The Record piece about Ibrox's "unused" players; how about this for unused?
Ideguchi, Soro, Johnston, Ajeti, Dembele, Moffat, Murray, Bolingoli, Kenny and Bain.
Bear in mind, these are the guys who can't get into the first 22, so if some of them seem like filler that's only to be expected.
As you'll have noticed though there's very nearly a third eleven in that lot and if you add in a couple of reserves (as The Record does with the Ibrox "backup") you do.
Honestly, the Ibrox love-in over there really is something to see.
You only have to look at the subs benches we've had lately, groaning with options, to see the strength of this team. This is now a squad that can challenge on all fronts, so of course the national newspaper would focus on theirs.
You couldn't make this stuff up.