The story of the day is about Andrew Dickson, and a bitter, angry tweet which sums up the thinking amongst the Ibrox fan-base.
One publication – and I'll spare them the embarrassment – calls him a "journalist" today, when in fact he's the ex-Ibrox employee.
Dickson also dis some unspecified job for Sky Sports Scotland, the people who decided that Kris Boyd offered the most intelligent commentary that they could find.
You couldn't make that up. In short,
he's a wholly discredited joke.
And that's why I laughed today when I read this: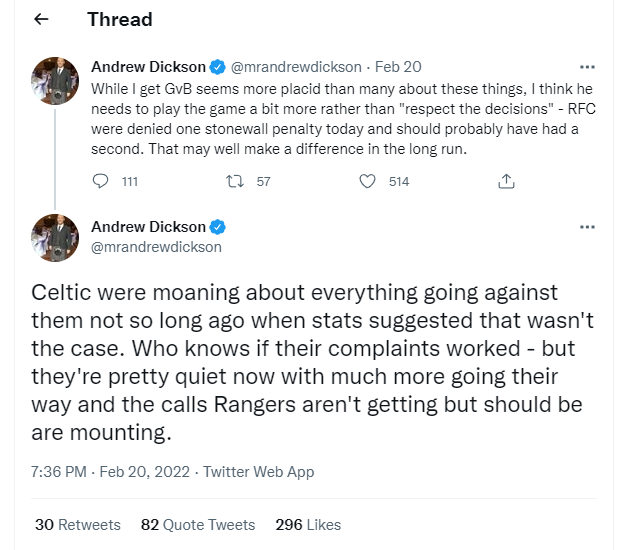 Oh where even to start?
Well how about with this; Celtic never actually uttered an official word of complaint.
If we did, we did it behind the scenes and there was no leak to a friendly newspaper to get the word out either, as the Ibrox club did earlier in the season.
Perhaps he missed that.
Or perhaps he missed Ange going mental at the fourth official at the weekend after a stonewall penalty was denied to us.
We see decisions every single week which are barely believable … but our club does nothing in public about it.
This site and others have complained about it endlessly.
So what is this muppet on about?
The insinuation that we've gotten to the SFA somehow is ridiculous, but let's take it to its obvious conclusion.
As well as the insinuation that we've stopped the bad decisions against us (manifestly false), is he also suggesting that we've … leaned on them to screw Ibrox?
Cause that's how it reads to me.
He's moaning about us influencing decisions against his team? Is he for real?
That man is barking. He has always been barking. He's featured on this blog before, and a number of others, for ridiculous pronouncements … but this is the most moon-howling by far.