Everyone who reads this blog knows the tremendous esteem and respect in which I hold our friend Phil Mac Giolla Bhain.
We have talked often of how things work in this occasionally sordid little land, and of the media in particular which talks a good game on issues like racism and sectarianism but can't be trusted to aggressively take it on.
There was a stunning example of this on BBC Radio Scotland yesterday, which I caught in my old man's car as we were making our way to the supporter's bus for the game.
We were about halfway up the road when the Ibrox club scored their equaliser and immediately the response of their supporters was clear; a chorus of the ancient dirge about being up to their knees in fenian blood.
This is the subject which Phil tackled today in his outstanding piece "Fascist Fans And Ancient Warnings" which you can read at that link, and which I'd urge everyone out there to share because it also contains some damning information on a very specific leaflet which is doing the rounds amongst the Ibrox fan-base, further toxifying that club.
Phil suggests that the media cannot ignore that song being belted out so lustily by the entire Ibrox travelling support; I am guessing he hasn't heard what Radio Sports Scotland did in the immediate aftermath, so I'll fill him in and anyone else who didn't listen to their commentary; they praised the "atmosphere" being created by the away fans.
That was their response to a full-throated rendition of The Billy Boys.
Not condemnation. Admiring praise.
It used to be that you could get full recordings of the commentary; I would not be surprised if any version of this were to be erased out of utter embarrassment at those remarks.
I thought it was a disgraceful comment.
Presumably the Nuremberg Rallies had a "great atmosphere" as well, if you were able to completely ignore content and context.
Honestly, that Phil Mac Giolla Bhain, a journalist based in a whole other country still has to urge this one to get its shit together is quite shocking and scandalous.
As he points out, not one single newspaper column has focussed on this disgusting anthem of racism and bile … a song that is banned by UEFA for that explicit reason.
Talking a good game is all they do, and only then whenever it suits whatever agenda they are trying to push on any given day.
The moment stood out for me yesterday because although I've heard plenty of hatred and bile spewed from the Ibrox fan base in recent months it's been a wee while since I heard their anthem of ethnic cleansing sung so vociferously or by so many … and that should have been noted by more than just those of us whose blood those bastards want to wade in.
This site has asked before, "when are Scotland's Irish and Catholics going to be awarded the same protections as everyone else?"
And I am still waiting for these sort of songs to be treated with the seriousness that they deserve.
That, yesterday, was an appalling look at the swelling lawlessness and emotional unravelling of the Ibrox support, but it was also an appalling look at how our media chooses what to highlight and what not to. I half expect that by this time … what I didn't expect was that a BBC anchor would shower praise on the scum singing such a despicable song.
But I guess I shouldn't have been surprised.
Their studios are filled, every week, by former employees of Ibrox; yesterday Barry Ferguson was added to the studio team as the latest example of an out-of-work ex EBT recipient who has walked into a gig at the BBC.
A tax-payer funded (but not for much longer) organisation, stuffing the pockets of those who ripped off HMRC … what a disgrace, even if the effects only stopped there.
Although his tongue was firmly in his cheek yesterday, Graham Spiers was so struck by the obvious bias of the commentary that he tweeted this in the aftermath;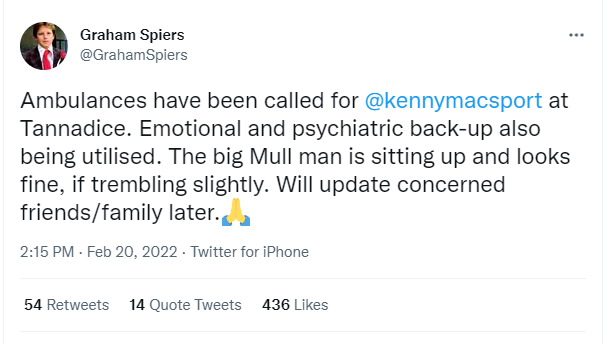 Spiers, who has tradionally been very good, and very vocal, on the subject of anti-Catholic bile and anti-Irish racism, should have saved the jokes though, because there was a deadly serious side to the sycophancy and pro-brox slant of that coverage.
Yesterday a national anchor disgracing his employers and this country by praising a hate filled dirge lionising a violent fascist.
Everyone involved in that broadcast should be thoroughly ashamed, and so should everyone in Scotland who claims to care about this country when a guy who doesn't even live here is willing to say what they won't.