What in God's name to say about Ewan Murray tonight, the embittered Hearts fan who works for The Guardian and who will use any excuse he can find to have a go at us?
What to say except that he's found a level of low which is beyond belief.
Celtic released a statement on behalf of the club, in which Ange wrote a very nice tribute to his friend Shane Warne, one of Australia's most beloved sportsmen.
Murray has attacked the statement for mentioning that Warne was a Dafabet ambassador.
Which he was.
Dafabet are the club sponsors, so it was effectively a message of condolence on behalf of our organisation and theirs at the same time.
This is what this nasty little man put up on Twitter.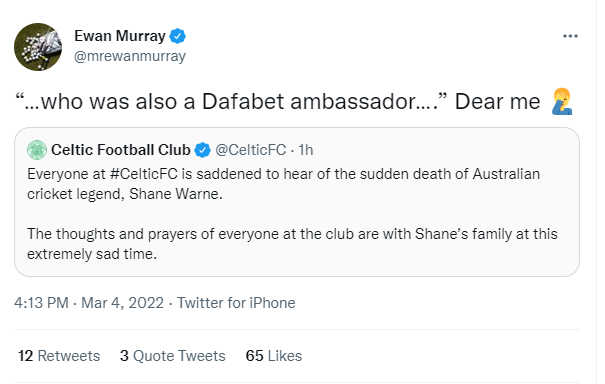 How appalling, petty and snide can one human being be?
He doesn't see a tribute, or an emotional message from Ange or two companies paying their respects to a man who has died. He sees only an opportunity to have a pointless, ego-driven attack on our club.
There are moments when this media environment astonishes you with its behaviour, and this is surely one of those moments, when you can only stand back in open-mouthed shock at the level of the bitchery and vindictiveness we have to tolerate.
There is a dead man and his family at the centre of this.
Did that dawn on Murray for even a second before he pressed Post on that? No, he only saw Celtic in his crosshairs and took his shot. It is one of those moments that fully justifies the word "disgraceful."
These people have no respect whatsoever for anything.
They see a chance to take shots at us and they grab it not caring what else is in the way, or affected, or even the way it makes them look.
They have no shame whatsoever.
Condolences to Shane's family and his friends, including Ange on the shock of his passing.