Last night, Tom English posted, on Twitter, that he has had to delete "a tweet" that he put up the other day.
He's referring to the scandalous one that this blog highlighted, the one where he spitefully attacked our club over the tribute to Shane Warne.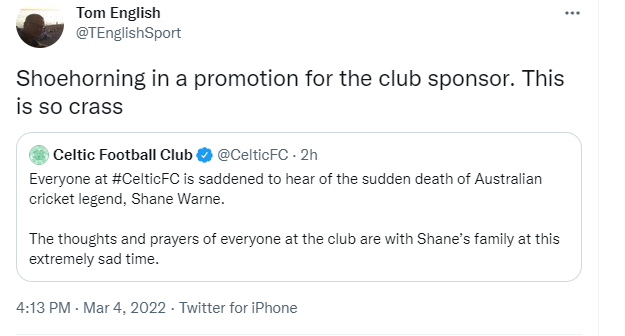 As you can see from his tweet, he was told to do this by the BBC because it "did not meet editorial standards."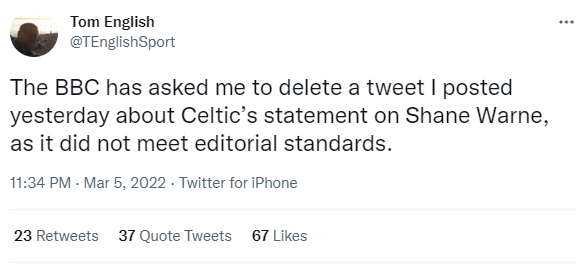 Nor, in my view, standards of basic human decency.
It seems clear that Celtic made a complaint.
I am glad for that and for the national broadcaster's swift action. Too many at the BBC seem to believe they can use that platform to wage personal vendettas against our club.
No more of this Celtic, no more.
This should be a sign that our club will not accept certain things in silence.
We may not have commented on the record, but it seems clear that we have made sure the message got through to English's employers, and that is all to the good.
The conduct of some of these individuals is abysmal.
They cannot wait to attack on even on the flimsiest pretext, and although the blogs don't let them away with a thing it is good that the club itself responds in ways that aren't visible but generate visible results.
English is clearly in the huff at being called out on his act of spite, but too bad.
If he and others in his business are not willing, or able, to act in a professional manner – and remember, Ange called out McIntyre in midweek and the club had to demand explanations for something Kris Boyd wrote last month – then Celtic has no problem making sure that they get a slap on the wrist for it.
These people have responsibilities … it should shame them that our club has to go to their bosses to make them respect that fact.
In terms of the national broadcaster, the tone of some of their "reporting" is utterly disgraceful.
One screenshot that I saw the other day, but can't back up the validity of, reputedly from the BBC Sport Scotland Twitter feed has two separate headlines; one is about how we "struggled" to a win over St Mirren.
The other is about how Ibrox "extended their unbeaten run to five matches."
Two of these games, of course, ended in damaging draws.
The goal in their game which won them the three points came in the first four minutes.
Their winner today came in the last eight.
But to read the BBC's reportage, we're the team who are toiling.
The only real surprise about English's tweet is that line about "editorial standards", because honestly, most Celtic fans had forgotten they even had any.
The other thing about English's tweet is that he feels his own pain.
He's huffing over getting a pull but offers our club no apology whatsoever for the offence he's caused.
That is the measure of the man.
He, like Boyd and others, are unrepentant about what they do; they abuse their platforms, but hey, that's what they think their platforms are for in the first place.
Well done to Celtic on getting this clown dealt with.