Earlier I posted about how Ewan Murray had used Celtic's tribute to Shane Warne to attack the club.
Now Tom English has leaped up with his own attack on the same manufactured grievance as Murray.
As though this was some Dafabet advertorial which we had built a condolence message around.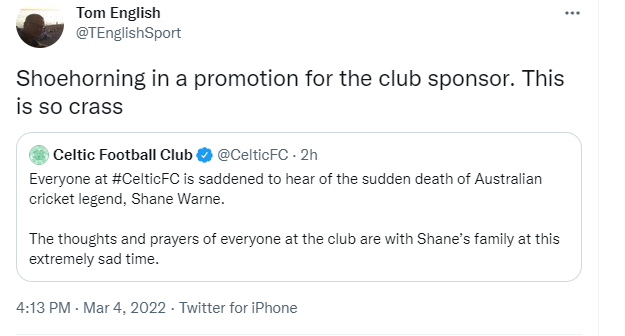 I am honestly heartily sick and tired of our media.
That this is the first thing that leaps to the minds of these people is astonishing and shameful.
What balls he has, to accuse of us crassness when he's the one trampling over a corpse to score his pitiful point.
This is curtain twitching. This is totally unacceptable.
Warne was part of the Dafabet team.
If we had posted a picture of him in his cricket gear would we have been promoting Australian cricket? The level to which these people will stoop to have a go is beyond belief.
Murray and English are part of a nexus that looks for everything negative it can write or say about us.
Theirs is a 24 hour a day 7 days a week 365 days a year we-never-close affair.
It is constant. It is niggle, needle, niggle, needle.
There are times when our club deserves every bit of criticism that has come its way.
I have spent much of this week using them as a punch-bag over the Australia farce, which the media is a loving because it gets them to ask Ange questions about "the Old Firm" which they hope will lead to him saying something they can generate headlines from.
That was our club which put the manager in that position.
They are deserving of every bit of criticism and scorn that comes their way for that, along with the dead silence from the CEO who is like our version of Aaron Ramsey; someone who is officially on the books, but who might well be a phantom identity and part of a time-card scam for all we've seen of him.
When our club screws up this blog will not hesitate to say so.
All this is today is a couple of nasty minded, spiteful little men indulging in their favourite pastime.
When you consider some of the sins of Ibrox, and about which they've been silent – where are their tweets on the return of racist singing to the stands for example? – this is what they choose to get on their high-horses about.
This is what they chose to rant about.
These people are the reason we detest much of the MSM.