What a dire media we have in Scotland, and what a joke some of those who make it up are.
Ange won the manager of the year award last night for PFA Scotland as everyone knows, but whilst we wait to see whether the press will grant him the same honour at least a couple of them have been grimly determined to embarrass themselves.
And one of them is Ewan Murray, permanent nasty minded Celtic critic who works at The Guardian and still manages to behave like the worst tabloid hack, and that's the thing of it; you don't get to work at that paper if you're one of those.
What I reckon is that Murray's bitterness towards our club makes him say and do the kind of things on social media that are unbecoming of someone in his role, and that bitterness is very real.
This was his own response to Ange's award last night.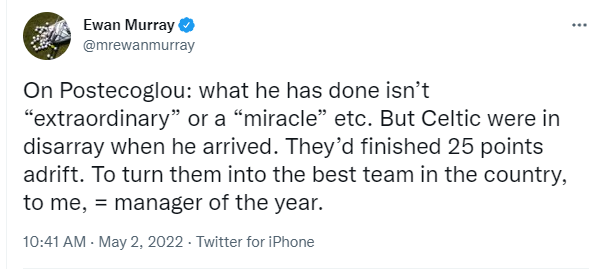 You'll notice that he tries to soften his words with the assertion that our manager deserved the award. You're damned right he did and only a complete moron would attempt to deny that fact.
Ange more than earned it. His is easily the best manager in Scotland.
But still, that tweet is pretty snide and bitchy.
Is it not enough to congratulate the guy without the nastiness in those lines?
Without trying to play down the achievement?
What makes it equally bizarre, of course, is this article from earlier in the season.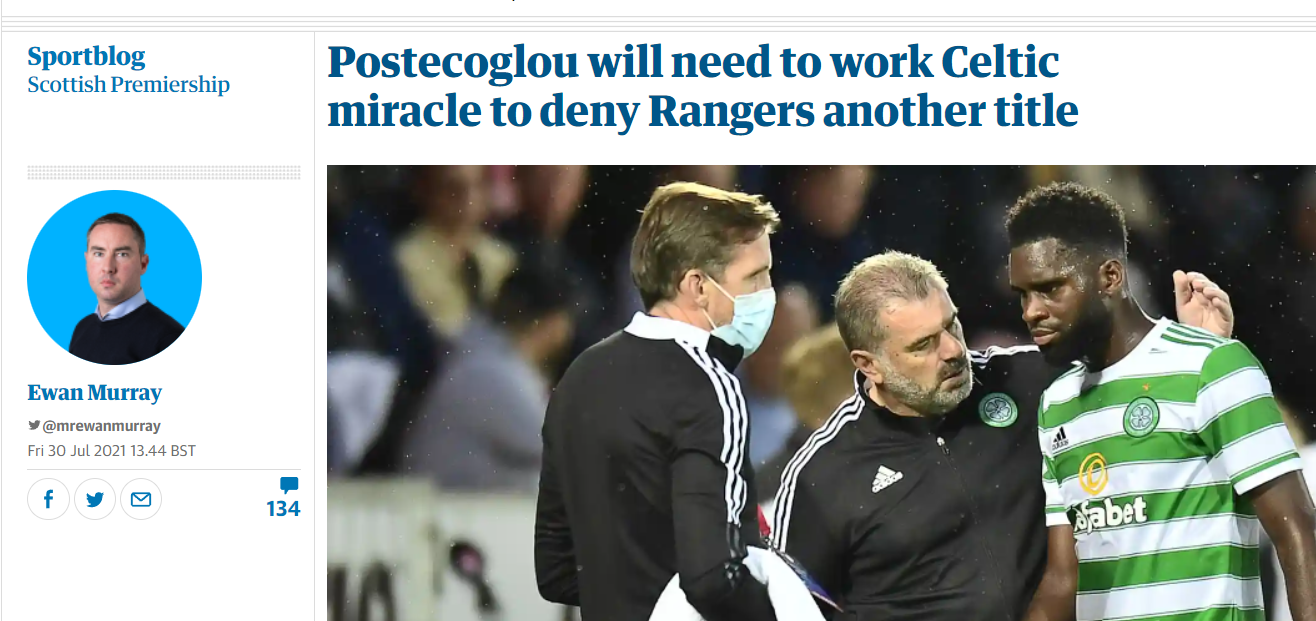 Now, Murray will defend that by claiming that he isn't the headline writer, but he had to have agreed with the general sentiment in there or he wouldn't have let the piece run with his name on it underneath those words.
So to cop out now by blaming someone else for that is just not credible and is extremely hard to take seriously.
This is a guy who had a hissy fit on Twitter just last week because people keep on repeating Ange's use of the word "mate" when he speaks to the hacks. I mean talk about chickenshit, talk about picking through the dirt for something to moan at. Murray has been sniping at us all season long and in the moment of Ange's triumph he wasn't about to stop.
That article contains some pretty choice quotes for a man who didn't think Celtic winning the league would constitute a miracle.
Here are a couple of them.
"As the Scottish top-flight season begins on Saturday, Ange Postecoglou's immediate aim does not involve turning Celtic into credible title challengers," he said.
"Gerrard has elevated (his team) to a position where it would be an almighty shock if they did not retain the league flag … (they) are stable and have assets. Crucially one, two or three of those players could be sold without much impact on (their) domestic strength."
"After an embarrassing delay, the Scottish Professional Football League even found a title sponsor. That branding should be attached to another (Ibrox) championship canter. If it isn't, Postecoglou will have performed an epic turnaround."
You have to laugh at all of that now, from the assertion that Ibrox's team could have survived the loss of key assets – no-one wanted them of course – to the delicious irony of his discussing cinch branding in the context of their club.
But Murray is the one who used the word "canter" in describing Ibrox's chances of retaining their title. The words "epic turnaround" do tend to suggest that our manager needs to do something pretty extraordinary in order to prevent it.
I always love it when we can hoist these people up with their own words, no matter how much they might want to squirm and kick and bite and flop on the noose. But it gets even better than that, because just two days after that piece he wrote another in the aftermath of his team getting the best of us in our first league game at Tynecastle.
Headlined "Celtic's dysfunctional state points to a club that has completely lost its way" you detect an obvious glee in some of the words he put on the page.
"If Postecoglou is therefore overawed by or fearful of the dire hand as delivered him, he is keeping as much to himself for now … If, instead, he is completely confident of restoring the faith of the Celtic support in their team, then such a sense is undermined by his demeanour. Managing clubs the size of Celtic requires personality."
Right there, the first personal note.
Nobody who spent any time watching Ange on video prior to the start of the season had the least doubt that he was a big figure with bags of charisma and personality; Murray either didn't do his homework or just chose to ignore it in favour of writing a piece like that.
Either way there is no excuse.
The guy had managed three competitive games remember, and this was the view that Murray, with all his patience and wisdom, chose to put forward.
"(Step) one for any new manager – let alone one facing clubs with a fraction of his resource – is to make his team difficult to beat. Postecoglou has not done that; Celtic are timid in attack and laughably poor defensively."
Three games in folks, two in Europe and one in domestic football.
Without his squad. Without the players he wanted yet.
And it went on, this long hatchet job.
"The 55-year-old, coaxed from Yokohama Marinos via a process which is worthy of scrutiny, is yet to deliver something, anything that infers Celtic have struck coaching gold … the early stages of Postecoglou's tenure are not littered with glimmers of hope. Signing players to suit the style Postecoglou wants to implement – and there is nothing particularly cosmic about that – becomes an increasing struggle as desperation increases. Postecoglou has not got a single coach of his own choosing in whom to confide, a strange scenario whether at his or Celtic's behest."
His comments on the signings? No better. Read these gems.
""Our first five to 10 minutes were chaotic, which we expected," said Postecoglou. It is legitimate to ask why that should be the case, save the deployment of a new centre-back, Carl Starfelt, after just a single training session. Much later in the match Postecoglou threw on the Japanese forward Kyogo Furuhashi, just free from travel quarantine. It looked it."
""Our front third play wasn't great all night," Postecoglou said. Something is wildly amiss there, given David Turnbull, James Forrest and Odsonne Edouard – all starters at Tynecastle – are among Celtic's best players. Liel Abada, deployed on the right wing, at £3.5m cost far more than Hearts XI combined."
It's all in there, the utter dismissal of the manager, the suggestion that the signings are questionable, the sense that Murray believed that this was all a train going nowhere. He summed it up by suggesting that Postecoglou might not even leave the game here with his reputation intact, such reputation as the likes of this clown recognised in the first place.
"Scottish football will chew him up and spit him out should he not keep up his end of the bargain. On the basis of preserving reputation alone, the manager would do well to remember that much."
What rattles Murray most is not even that Ange and Celtic have succeeded where he thought unlikely, but that we have made him and others like him look like absolute mugs in doing so. Those witless comments are on the record for all to see, and I speak as the guy who wrote, initially, that this could well be our Pedro Caixinha appointment.
I long ago accepted how wrong and how stupid such a snap judgement was; indeed, I was already on board with Ange by the time those games kicked off, and just one week later I was raving about the football we played against Jablonec first and then Dundee, with the "fresh from quarantine" striker scoring a hat-trick and Abada running the show.
Four days after Murray's rant, I wrote this after Jablonec.
"Already you see signs of great things. Abada for one. He looks a real talent, a genuine find of quality who is capable of finding space amongst a packed defence. He scored his second European goal and his second for the club tonight, and there will be many more. He is going to terrorise Scottish defences, absolutely terrorise them. Furuhashi showed the kind of first touch, quick reactions and sublime finish which will do likewise. This will be a Celtic unlike any we have seen before … and unlike any our opponents have faced."
I finished my article after the Dundee game with this observation.
"We were so hungry for goals, we had everyone in their penalty box for a last minute corner. It was a fearsome attacking display, and as these guys get better and more comfortable with each other there will be more performances like this and it was the best one I've seen from a Celtic team since Rodgers was here and perhaps even longer than that. If this is a work in progress, God help this league when this team is at its peak."
Idiots like Murray were still gibbering on about third place finishes and the away record.
They will never admit how wrong they got it.