I want you to read the following, as it appears on The Record's website.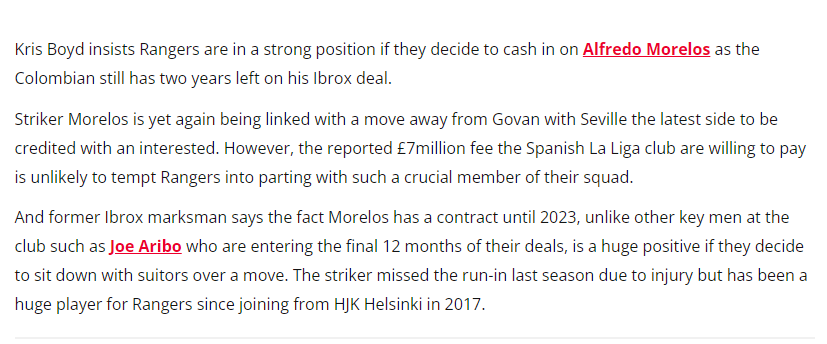 "Kris Boyd insists Rangers are in a strong position if they decide to cash in on Alfredo Morelos as the Colombian still has two years left on his Ibrox deal."
I read that and thought "wait a second … no he doesn't."
Apparently The Record sports writer – Gavin Berry – did not.
And if you were confused by that, or better yet, laughing at the mix-up, it gets worse.
"Former Ibrox marksman (Boyd) says the fact Morelos has a contract until 2023, unlike other key men at the club such as Joe Aribo who are entering the final 12 months of their deals, is a huge positive if they decide to sit down with suitors over a move."
I had to read that a couple of times to make sure I was seeing it right.
They think Morelos has two years left on his deal, but that it ends in 2023?
Are they really that bad at maths?
Can they really not know what every other person in this country does?
That his deal is up in 12 months just like those other players? That's a hugely embarrassing mistake.
But whose mistake? Boyd's? Well, we know that Boyd if a complete moron, but does he really think that Morelos still has two years left on his deal? Or is it the fault of the writer who listened to Boyd on Sky this morning and tried to turn his garbled mess of a statement – that Ibrox holds all the cards but that they might need to sell anyway – into something vaguely coherent?
Either way, this is a shambles from the paper and the Village Idiot School Reject at the same time, a complete mess which sums up the overall attitude towards this matter. Morelos is out of contract next summer.
The club is going to have to punt him and the longer they persist with fantastical valuations the more likely it is that he leaves for free.
Ibrox is holding a weak hand and playing it badly.
The idea that they can afford to take their time on this one is for the birds. It is amazing to me that the paper, and Boyd, think that it's possible to do so and humiliating for them that they obviously can't count.
How well do you know your Days That Shook Celtic? Do the quiz now.