Maybe it's just me. Maybe I'm now coarsened and cynical and unable to give anyone the benefit of the doubt. But when I saw this headline late last night my first thought was "forgotten by who?"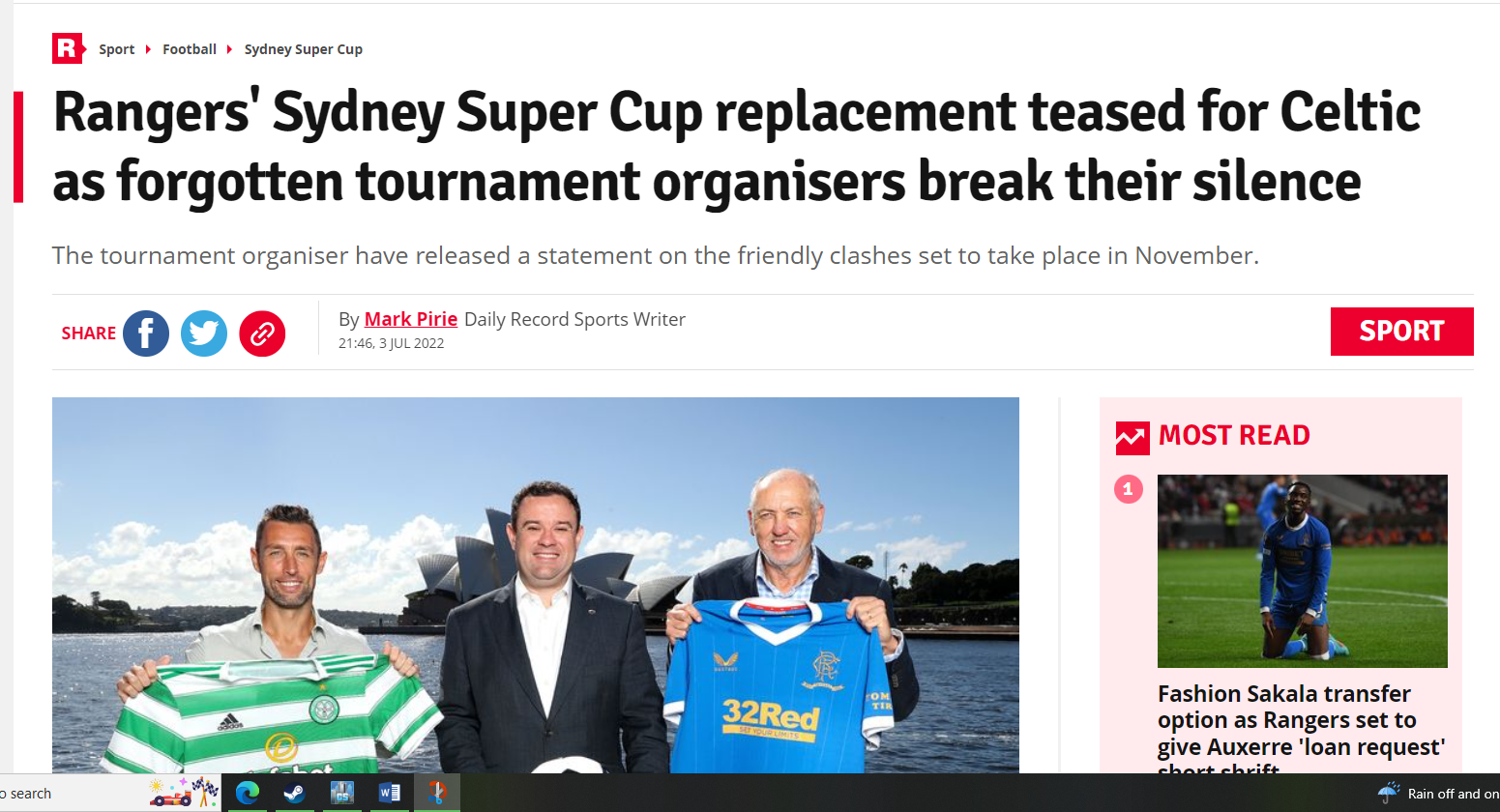 And what exactly does that headline mean?
That the organisers are forgotten, which seems strange, or that that the tournament itself has been?
You'll notice the name of the writer, yeah? Enough said?
Just who exactly is it who has done the forgetting? The Scottish press, now that the Ibrox club is no longer involved? Doesn't that just reveal a certain, petty bitterness? Because that mini-tournament was being touted as a Very Big Deal when their favourite team was still in it. Now it's what? A non-event? Albiet one we'll net several million pounds for.
Apparently it's Everton who the organisers are in negotiations with.
They would do fine. To be honest, any club will do fine now that we're no longer sharing a stage with the Goon Squad at Ibrox.
Celtic fans over there are looking forward to the occasion.
This is their chance to see the team in the flesh and pay a special tribute to the boss.
Nothing about this has been "forgotten" from their point of view. But The Record would have you believe that the whole idea has been dying on its arse since the Sevconuts gave in to pressure from their own supporters.
Graeme Young of The Record writes, in another article on it today, that "the tournament suffered a blow" when that happened.
But did it really? Celtic were, and remain, the whole point, the main event, and a lot of our fans were very unhappy at the prospect of giving the other lot the exposure that such a fixture would have handed them.
The whole thing is just so much better. Ange can enjoy his home-coming without it becoming a hate fest.
The media might not like it, but this mini-tournament is even more important than it was, even more interesting to most fans than it was … the only people who've "forgotten" it are those who can't see past their blue tinted specs.
Have you read Ten Reasons Why Celtic Will Win The League Next Season? Do It here.
How much do you know about our wins over Sevco? Do the quiz and find out!