Ange was quite snappy yesterday when he stood in front of the BBC's interviewer, and no wonder considering the ridiculous nature of the questioning. Were we lucky? Were we wasteful? Was he worried?
All of which Ange answered emphatically in the negative.
We were none of those things. We won and we thoroughly deserved to win.
Today even the Ibrox fan sites aren't terribly impressed with their performance at home against Kilmarnock, in a game that was 0-0 until the 51st minute. We scored our opener at around the same time, but although we conceded the equalizer I agreed with Ange that there never was a moment during the match in which I thought we'd drop points.
As I said yesterday, we're the only team not allowed to score late in a game. We're the only team for whom this is not a sign of resilience but simply good luck.
The BBC took an overwhelmingly negative line of questioning yesterday, which Ange swatted away neatly. But their coverage remains abysmal, and so one sided when it comes to how we're covered as opposed to the side across town.
"Moritz Jenz rescued Celtic with a late goal on his debut," reads the first line of their match report. Rescued. What a joke.
This is how they covered the Ibrox club's win in Livingston last week.
"Rangers' Scottish Premiership title challenge got off to a winning start as two goals within two second half minutes floored brave hosts Livingston."
No "rescued" or anything else like it in there, eah?
Two pictures should give you the right overall feel for what it is that our "neutral" national broadcaster does in covering these clubs.
This is how our win was received yesterday.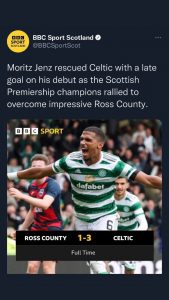 This is how theirs was covered.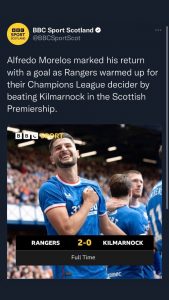 This is how they chose to cover the key segment of the Celtic game.
"The game burst to life within minutes of the restart as Callum McGregor played a weighted pass to Jota, who took an intelligent touch past a defender before picking out Kyogo in front of goal for a simple finish.
The goal seemed to intensify County's endeavour, as they enjoyed decent attacking possession before Iacovitti bulleted home an Edwards corner just short of the hour.
Celtic toiled in search of a second goal until centre-back Jenz glanced a header home from a terrific Jota cross to send the travelling support wild."
It intensified County's endeavour? We ended the game with 77% possession.
We had 23 shots at goal. 7 of them were on target.
We toiled? Do those stats suggest that we were toiling? We came up against a packed defence, but we were getting in behind them and opening them up … and we ended the game with three goals.
And how did they cover the Ibrox club's game?
"Rangers came out determined to improve upon Tuesday's defeat in Belgium and dominated possession and territory."
They are allowed to dominate possession and wait for the openings. We are not.
When they do it is patient football. When we do it is "toiling."
Such bullshit, but what we've become accustomed to.
They say that peace is not just the absence of war; well, the BBC has made its peace with Ibrox, and that's been evident for a long time even if the "war" was still officially ongoing until recently.
Their coverage gets worse with every day that passes.