Once again, before I start the article, a big thank you to Paddy Sinat, the hard working guy, and good mate of mine, at Vital Celtic, for forwarding me his piece on this and drawing my attention to the story. He keeps a great eye on the media, does Paddy, and his stuff is always worth checking out as a result of that. Well done to him again.
The crux of this is simple; BBC Sports Scotland has wilfully misrepresented a quote from another source in order to justify a wholly fictitious headline about how Ange is "under serious scrutiny" from Leicester City should they decide to pay Rodgers his reputed £18 million termination fee and get shot of him.
For some people that would represent an alarming development.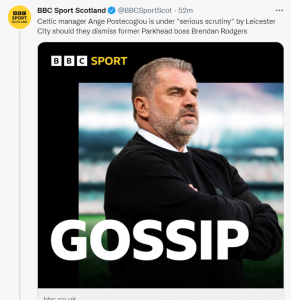 (I'm not in the least alarmed nor would I be even if the story was true.)
But of course, the story isn't true at all.
It's a complete put-up job by BBC Scotland and it took Paddy a mere five minutes to run down the source of that "serious scrutiny" quote … and of course, the quote refers to Rodgers' position and not our manager.
What's worse is that the initial source for this story is Joel Sked, the guy who I've repeatedly said is the worst "digital sports journalist" in Scotland, although he has serious competition from our usual suspects.
His article, which started off dismissing another media inspired piece of nonsense – the story which linked Ange to Brighton – was a classic example of a hack speculating on a slow news day.
When you are copying this guy it's a bad one at the office alright.
Sked himself is the one who floated the idea that Ange "could" be considered by Leicester, a complete shot in the dark which no credible blog would even have bothered to write.
Of course he "could" be. In theory I "could" be. But I won't be.
But even this dire excuse for a hack doesn't go as far as the national broadcaster does in telling an outright, barefaced, no holds barred lie.
"Leicester City could be the next top-flight club looking for a new manager with former Celtic boss Brendan Rodgers under "serious scrutiny" according to reports in England," Sked's piece reads, which is all true … and as you can see, that's where BBC Sport Scotland got the "serious scrutiny" quote, which they then used in a wholly falsified manner.
As Paddy pointed out on Twitter, that quote was in relation to Rodgers, not in relation to Ange.
The Scotsman did its bit on trying to create smoke where there was no fire, but it was the BBC itself, which you and I pay for, which absolutely took the piss here.
That headline should be, and will be, the subject of an official complaint.
It's not misleading, it is 100% fraudulent and we should not have to pay a license fee to be fed lies.