Oh it hasn't taken much to unleash the hounds across the city, has it?
One pasting at our hands, and all the euphoria of the PSV game has gone like so much piss down a trouser leg.
Even as the shock waves continue to reverberate, their Supporters Association has responded with a fuming statement on Twitter which demands meetings and answers and guarantees.
Hilariously, they chose to end the statement with the words "Stronger Together."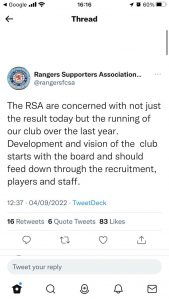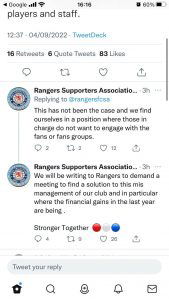 Appropriate, when you've just publicly lit the blue touch paper for a civil war!
To be honest, this has been coming since the transfer window over there shut with a dull thud in midweek.
Their fan media groups were shaken out of their complacent (and complicit) silence in midweek when they didn't spend any money on new players in spite of their Champions League qualification. They know there are holes in that squad and that real money should have been spent fortifying the midfield, and perhaps even on a new keeper.
You can fool some of the Peepul most of the time but not all of the Peepul all of the time.
There comes a point where even these gullible morons will recognise the truth of what's in front of their faces, even if it pains them to finally admit it.
When you think of all the times that we have written, on this blog and elsewhere, that when you look beneath the surface that their club is a shambles, it is gratifying to see that their own fan's organisation understands this quite well.
Because, of course, they know that there is stuff going on at Ibrox that the media doesn't want to explore or write about.
They see the American "investor" story for what it is.
They know that they and the other fans have been lied to repeatedly.
They know – and it's obvious – that the constituent parts of that club do not fit together or work together well.
That there are divisions in the boardroom and in the dressing room.
That the upper echelon of the club is divided … and King still hovers nearby.
There will be a backlash against what they've written here … from their fellow supporters.
That's why I find the "Stronger Together" part of the statement hilarious; there is nothing unified about the Ibrox operation and nobody knows it better than these guys do.
They know they don't even speak for the majority of the fan-base itself.
That club is a few bad results away from a total meltdown.
If they don't do well in their opening Champions League games and fall further behind us in the league – not to mention the fury that will erupt if we turn out to be better in Europe than they expect – the eruption will be momentous.
Already today, many of them are on the brink.
This is never a good luck for a club … and in particular one that wants to paint the picture of itself as a major European force.
They are a mess.
Their fan groups, and their shareholders, are well aware of that and they have been for a while.
These problems are not going away.