I always love it when Ibrox fan media gives us a laugh, and today one of their notorious individuals – poor Andy Lacey – fell hook, line and sinker for an internet joke and passed it onto his followers, who briefly lost their minds over it.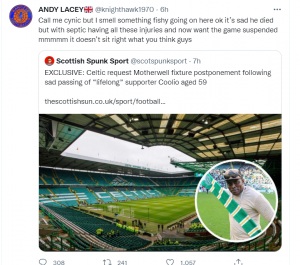 As detailed in an excellent piece for the Born Celtic site, Lacey and his followers leaped onto a story that said Celtic tried to have tomorrow's game with Motherwell cancelled because of the death of Coolio.
It's so obviously a joke that it's hard to believe that any rational person would take it seriously, and the "story" which prompted it came from a Twitter account calling itself "Scottish Spunk Sport", which superficially looks like The Scottish Sun's feed but only if you're looking at the headline and not the Twitter handle.
But these people are so bent on hating Celtic that they never stop to look at the full picture, and Lacey and others leaped onto this without blinking. At the time of writing this he still has the story on his own Twitter feed along with his response.
These Peepul live on another planet.
Imagine falling for something this ridiculous.
It would beggar belief except that it's nothing we've not seen from them before.