Nothing sums up the madness of the Ibrox fans like a social media post that gets absolutely everything wrong, and this one is a cracker. This is in a thread comparing their squad to ours and it is simply amazing to me that it isn't being called out by everyone.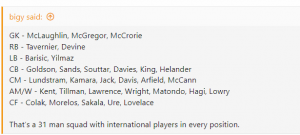 The first guy to do so summed it up; "our first choice right winger isn't even in the Scotland squad." You have to love it when someone breaks through the madness and embraces reality.
Still, let's explore the central claim. Internationalist at every position?
GK – McLaughlin, McGregor, McCrorie
McLaughlin is a 34 year old international who hasn't played for his country in three years. McGregor is no longer an international and he's 40. McCrorie is 24 and has spent the last few years (five of them or something) out on loan, and he's nowhere near the national team. So right away you can raise some questions about the central claim.
RB – Tavernier, Devine
What do you see looking at right back? A distinct lack (zero) of international caps. The claim has already been exposed as risible nonsense no matter how many people think Tavernier should be playing for a top six club in the EPL.
LB – Barisic, Yilmaz
This might actually be my favourite bit. Yilmaz has a handful of caps for Turkey, but you could argue that he's in the ballpark. Barisic is experienced and was, until recently, Croatia's first choice left back. But not anymore. He's since been supplanted there by our own Juranovic. Playing out of position. They really do bring this mockery on themselves don't they?
CB – Goldson, Sands, Souttar, Davies, King, Helander
A few internationals in there to be sure. But their main man is still Goldson who was one of the least sought after out of contract players of the summer.
CM – Lundstram, Kamara, Jack, Davis, Arfield, McCann
International players there too, I grant you, but two of them are old enough to watch their grandkids get into the first team, Jack is a Scotland player in name only and the day you see Lundstram strutting his stuff in the England team will be a cold one in Hell.
AM/W – Kent, Tillman, Lawrence, Wright, Matondo, Hagi, Lowry
Ho-ho-ho. A real poverty of international talent in that list, even those – like Wright – who do play for their country. As I said, one poster pointed out that although he's in the Scotland squad he isn't a first choice in his natural position.
CF – Colak, Morelos, Sakala, Ure, Lovelace, Roofe
You notice they keep drafting kids into this squad? They don't have anywhere near the strength in depth that we do. Colak and Sakala are international players, by the way, although the Croatian has only got three caps. Morelos … should we even class him as an international player? Didn't he, like, miss out on the "selection squad" of 50 odd players last time?
This is the squad they think is the equal of ours. This is the squad that – if you believe the reports from tonight – they will not be improving before the window shuts. You don't have to be a Celtic blogger to see some holes. A lot of their fans already have.
And if they can see it … you wonder why their manager can't.
Or if those above him just don't care at the moment.
More on that later.