Josip Juranovic has played every single minute of Croatia's quest for the World Cup. He was superb tonight, some would say the man of the match and I would not take issue with them.
He has been at the heart and soul of their excellent displays.
Tonight was the high point as that storming display of his got them past Brazil.
Yet this is how Football Scotland greeted that performance on Twitter.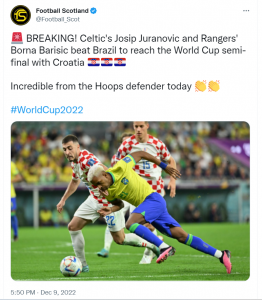 I remember Eddie Murphy joking, in Raw, about how a woman who marries a man with $300 million isn't going out to work at a boutique at the weekends.
"There Johnny, I went out and made $70 … put that with the rest. Now we have $300 million … and seventy dollars, because I want to do my share."
That's what that headline is like.
Did any of you witness The Lesser Spotted Barisic anywhere tonight except picking lint out of his shorts on the bench?
You might as well have written Juranovic And Row Of Fans Sitting In The Stand Help Croatia To Beat Brazil as that bonkers headline.
Barisic has played one game, in the last round, when injuries gave the national coach no other option. And he stunk worse than a dead fish left under a radiator for a fortnight.
I wrote about it after the last round, where he was roundly mocked by the commentators for his fitness, his lack of quality and non-existent pace which saw his marker get by him until the marker was moved to the other side of the pitch, presumably to prevent the Ibrox full-back from getting PTSD.
He wasn't near getting on to that park tonight and if he plays another second in this World Cup it will be for the comedy value or an act of charity.
You have to hand it to our media for the way they consistently embarrass themselves with this kind of nonsense.
Barisic is in the squad, and he has netted them a few quid for being there and that should be enough to chill out the Ibrox horde who know that's been about the limit of his contribution.
But it's as if they can't help it.
To equate his sitting on the bench watching with Juranovic's sensational performance on the park just leaves them looking ridiculous and actually draws attention to how little the Ibrox player has played his part in this campaign.
Try as they might, they cannot devalue what Juranovic has done.