Whenever an ex-Celtic player suddenly pops up with a media career I worry. I worry because they tend to overdo it on the criticism of the club. I worry because the last thing we need is some goonish Kris Boyd clone only on our side of the fence.
So I didn't initially know what to make of Peter Grant when he appeared on the scene, although I've found some of his early interventions to be irritating to say the least. Today, he's waded into the discussion over Kevin Nisbet and to be frank he's jabbering a lot of nonsense which the media is only too happy to amplify further for him.
"Celtic 'priced out' of Hibs Kevin Nisbet transfer swoop as ex-Hoops star offers '4 or 5 million' theory" screams the ridiculous headline in Football Scotland.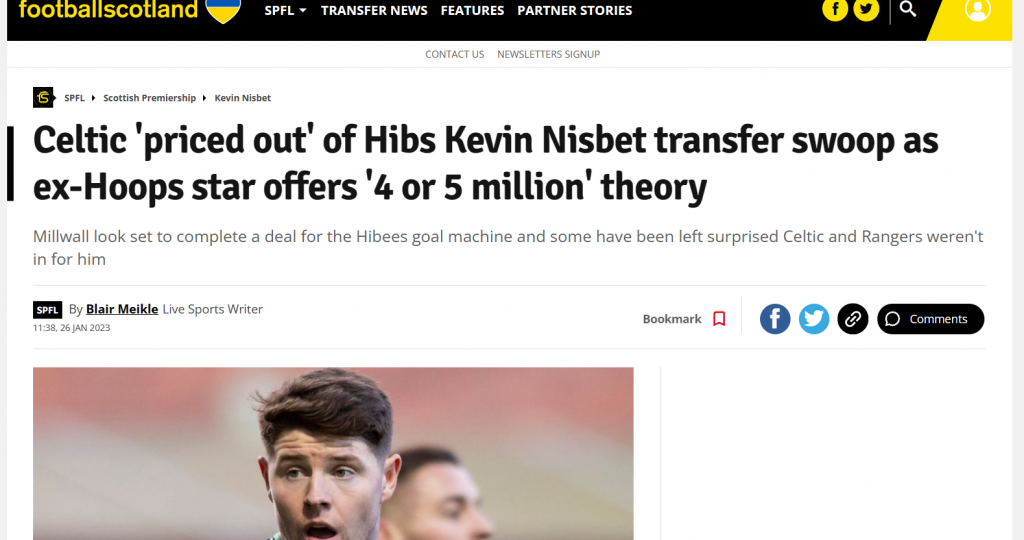 "The price goes right up. If Celtic phone Hibs you know the price is going up right away," he said, which in itself is not totally ridiculous. Lawwell tried playing those 'well we'll wait until the summer and take him for free' games with them over McGinn and it didn't turn out so well, but Hibs were guilty of that as well in that they vowed not to sell him to us.
"The English teams, the amount of money they get is phenomenal. And it's value for money the manager is probably looking at it. You look at Celtic's new signing and he's two and a half million pounds and Hibs are asking for four or five million from Celtic, you can see the reason why that doesn't happen," Grant said.
Which to me, there's nothing terribly wrong with that statement either … but he's missed a very big point, which he would see more clearly if his eyes were open and he wasn't trying so hard to fire up his brain-cells in pursuit of what's an obvious conclusion.
"We said in the summer about young [Lewis] Ferguson about young [Josh] Doig, both of them and Celtic were looking for midfielders or left backs, you're thinking all day long. As I say, there must be a reason why. Whether they get priced out of the market. It's not down to the boy's talent."
Except yeah … in all those cases it was exactly down to the talent of the players involved, and so it is here. Lewis Ferguson, for all he's a decent player, is not a better player than McGregor, Hatate, Turnbull or O'Riley. Doig? We don't know whether Doig will prove to be a better player than Bernabei, but he's not as good a player as Taylor.
And Kevin Nisbet is not rated, as highly, by Celtic as Oh Hyeon-gyu … if he was we'd have moved for him and we'd have signed him.
We've paid big for players who were worth it this season, two massive £6 million deals amongst other bits of business … so the idea that we wouldn't have gotten Nisbet or pushed the boat out had we thought he was worth it is just nonsensical.
The bottom line is that we just didn't believe he was good enough to play for Celtic, just as we didn't believe Lawrence Shankland was or Lewis Ferguson or Scott McKenna, just as we don't believe that Ryan Porteous will ever make the grade.
This isn't complicated stuff. There's no need to spin out a conspiracy theory here or push some madcap idea that we went looking for a cheaper option … Kevin Nisbet would have been a backup to the backup at Celtic Park. If we'd thought he was anything else we wouldn't be conducting our business so far from home.
In the meantime, the Ibrox club had their opening bid for Raskin rejected today. The same newspaper has chosen to cover that in a slightly different way.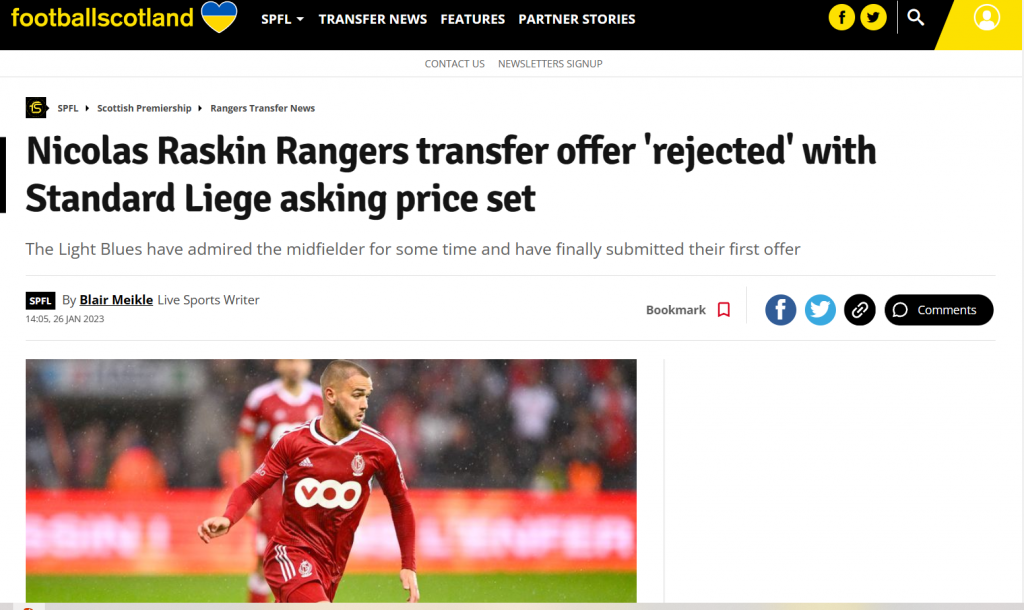 I think the term they were looking for was "priced out." Glad we could help.