Glasgow Live and Glasgow World are terrible publications, with the most desperate "sports departments" in the country, by far, and I am not even going to sugar coat that. They are awful.
In the course of this afternoon they've managed to get one article each up on Todd Cantwell, Ibrox's midfield target, that are so bad that I would have highlighted them as particularly ghastly examples of Ibrox Noise moon-howling had they been published on there.
But semi-mainstream publications putting up utter guff like they have today convinces me that they don't have the writing squad to run a half decent blog.
The first of the Cantwell articles appears in Glasgow World, a grotesque new addition to the news aggregator list and as full of god-awful clickbait as you could ever not want to see.
Their article is about how Cantwell – who remember hasn't even signed for the Ibrox club yet – would instantly be the "joint sixth" most expensive player in the league.
And where did this blinding bit of data come from? The widely derided nonsense site we mention here sometimes just to laugh at it, Transfermarkt.com, which still has Ryan Kent as the most valuable player in the nation and has Morelos and Tavernier at joint third valued ahead of Abada, McGregor, Hatate, O'Riley, Maeda and Cameron Carter Vickers.
Anyone who quotes the fantastical figures from that site ought to be barred from holding a pen far less from sitting in front of a word-processor. Yet the mainstream media sites have at least one story a day on its nonsensical valuations.
That's not even the worst of the two stories, that honour belongs to a "writer" called Lewis Barton who posted an article on how "they"- presumably the sports department of the paper – "signed" Cantwell for the Ibrox club on Football Manager 2023, "simulated" the season and lo and behold the Ibrox club won a trophy with him in the team.
Apart from the ridiculous idea that a video game offers some kind of insight into what will happen if they sign this guy, there are other issues with this story.
(And yes, the ridiculous nature of it is a big issue in itself and should, in all honestly, render it unworthy of proper debate).
What the writer doesn't say – clown that he is – is that you'd have to simulate a full season, you can't start halfway through one but rather back at the start with everyone on zero.
Here's what else he doesn't say; he doesn't say what other parameters he changed in the database because I can think of a pretty big one that would skew any result rather dramatically; the game still has Van Bronckhorst as the manager of the Ibrox club right now, and other than with the use of "edited databases" that won't be corrected until February.
In his flagrant dishonesty, the writer actually tries to pretend that he simulated the game from just this point. But he's such a complete moron that he's helpfully published the league table which "proves" that Cantwell also helped them "close the gap" in the league … except we win it by 15 points and not the current 12.
And what does the league table show?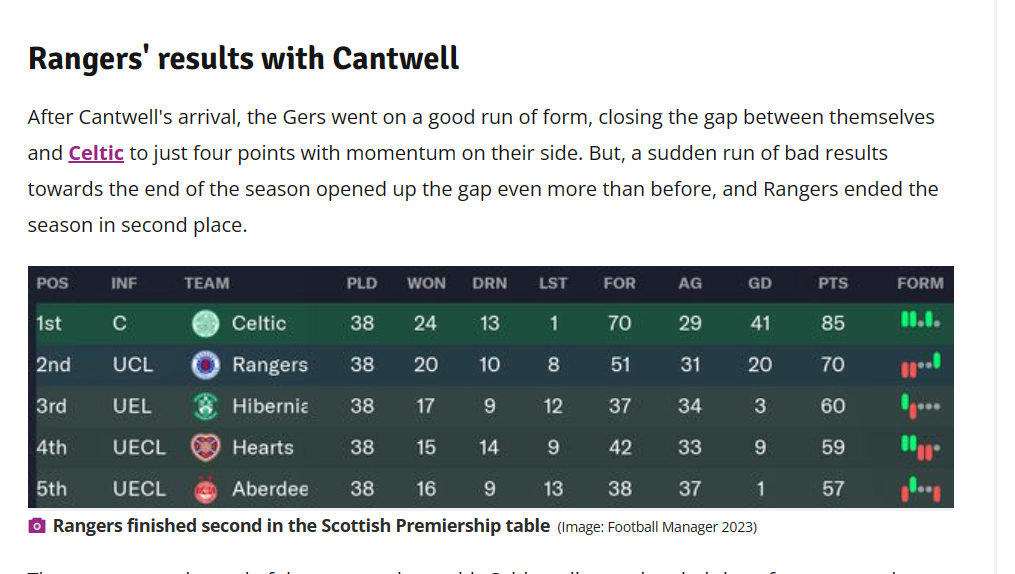 It shows Celtic drawing no fewer than 13 games in the league and finishing on 81 points. So he'd have us believe that the "simulation" run from the current date has us drawing 12 of our remaining games.
You'll also notice that the Ibrox club draws ten and lose eight.
Right now, they've lost two and drawn four … so this "improvement" with Cantwell in the team sees them drop points in ten of the games that are left including a spectacular six defeats … which even The Mooch with all his deflection surely couldn't survive. (But of course, Gio is the manager here so maybe he'll do a piece on that next. Should be riveting but someone else can review it.)
So not just a bad writer but a bad liar as well.
And his paper published this utter embarrassment of a story which, even if you accept the basic premise of it (and it's preposterous, so of course that's a non-starter) doesn't stand up to a little poking around.
I know of at least a dozen bloggers on this side of the city alone who could walk into those offices and transform their output overnight into something fans can actually relate to and would enjoy reading.
If they had a shred of respect for their readers, they would not run such dreck day after day after day after day after day.