I know that more and more the Newsquest titles are starting to slide downwards to the level of the tabloids, and perhaps even – the horror of it – to the status of us mere blogs, but that should be a fall that they are determined somehow to address.
Instead, I swear to God, they look more and more like an organisation that wants to embrace it.
We got another example of that last night, with a dire headline on the news feeds, this one coming from The Evening Times. Look at that caption under that picture, that was the headline as it appeared on the aggregators in the aftermath of the game.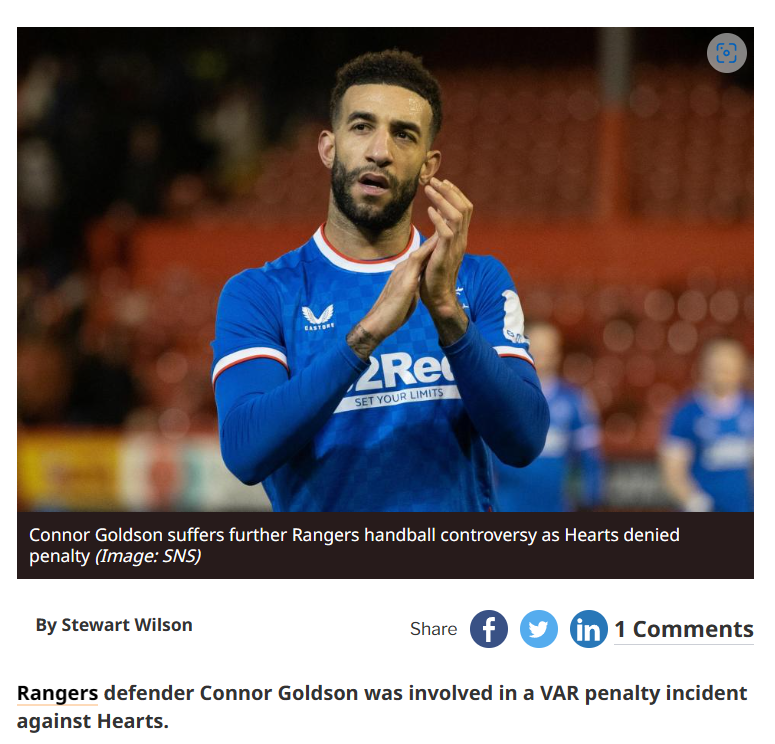 "Connor Goldson suffers further Rangers handball controversy as Hearts denied penalty."
Who in God's name wrote that?
Goldson is the one suffering here? Really?
What's suffering, I think, is the credibility of our game now that he's been allowed to turn it into netball.
When you see the penalty decision given against St Johnstone last week and then consider that he has been let off with no fewer than three of these since the turn of the year it should make your jaw drop.
But of course it doesn't because we all know the stats.
That's game number fifty in domestic football without a penalty kick going against them, and this guy has been at the centre of at least three incidents, for handball alone, in the space of a month.
He's not the one suffering, I assure you.
It's the rest of us, the rest of us who have to watch this farce continue to unfold week after week, game after game, knowing that nobody is going to properly call it out and so it will not get any better.
That headline is part of the problem because the media itself is part of the problem and that's being grossly overlooked in a lot of places. The mainstream press refuses, point blank, to have a real and serious discussion about this stuff although some folk, like Andrew Smith, are at least trying to spark one.
The rest of them couldn't care less.
That's why this guy knows he can keep getting away with this, and why his club will keep getting away with it.
Because nobody is holding those responsible to account.