Charlie Nicholas is in the news today mewling about some Celtic fan debate over whether Kyogo is as good as Larsson. Remember the days when this guy used to tell you that he was plugged in over here? That he knew the club and the support?
We've always known it's nonsense. The man hasn't a clue.
This so-called "debate" is a figment of someone's imagination and wherever he's picked this boloney up from it sure as Hell isn't any Celtic supporter.
Oddly, it's not just Nicholas who believes it's taking place; I've seen this from other hacks. But it certainly isn't a fact.
Celtic fans have debated whether or not Kyogo is the best striker since Larsson; debating whether he's as good is not the same thing, and I don't think there's a single person anywhere who would claim that.
Larsson is the finest Celtic player I've seen.
As strikers go he is almost without peer at the club; 242 goals making him the third highest scorer in our history.
So who in God's name is having this discussion?
Where the bloody Hell has this nonsensical story emerged from?
If Nicholas thinks Celtic fans are actually having such a debate then this goes to show, to prove conclusively, how far from the fold he actually is.
In my view, Kyogo is the best striker we've had since the King of Kings, but I'm willing to hear alternative theories and there are a few strikers – including Dembele and Edouard – who have a good claim to challenge the Japanese Bhoy.
This is definitely the subject of much discussion and if Nicholas knew even a fraction of what he thinks he does he might even be vaguely aware of that.
But he's miles off it which is doubtless why he found this so easy to believe.
I do wonder where in Hell this has emerged from though.
Doubtless some hack who similarly thinks he's plugged in … but it's crazy.
Is Kyogo The Best Celtic Striker Since The King Of Kings?
Yes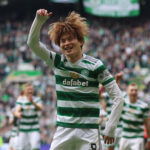 No