The least surprising thing about today's women's league decider was the BBC coverage being almost entirely focussed on how the Ibrox club could win the title. It was relentless, as it's been relentless all week long.
The assumption that this was in their hands and that they had "one hand on the trophy" was nearly universal.
I actually thought we were slight favourites.
The BBC is a disgrace. From their assertion, last week, that "the title belongs to Rangers" when there was still a series of matches to play, did not let up for the whole time between then and the full time whistle today.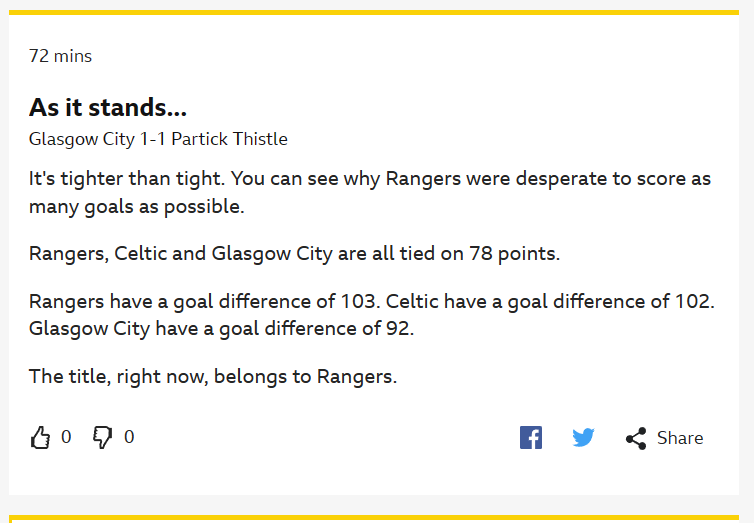 It is God's little joke that their favourites finished third and were denied a place in the Champions League because I think they probably had their party hats ready.
Had their last minute equaliser stood, we would not have gotten the credit we deserve; far from it.
We'd have had to endure instead the notion that they had "handed us" the title rather than we'd won it. We'd all have taken that outcome … but it would have been grim having to swallow that line of bullshit when they were pushing it like a drug.
But as much as today is the story about what we did right, it's also the story of what they did wrong and that's not going to be part of the conversation.
The simple fact of it is that Fran and the women knew what they had to do today and they did their part. It was the Ibrox club which lamentably failed to defend its title, at home, in a match they needed to win.
With Celtic getting the result, no other outcome was going to be of any use to them and they bottled it.
The Celtic women's team made us proud today because they got their own business done.
We went into the weekend knowing that our destiny didn't ultimately rest in our own hands, but we gave ourselves the best possible chance to do it … the media will spend the next week writing our hard luck story.
That will stop Ibrox getting the scrutiny it deserves.
They've gone from first to third.
It won't amaze you to know that for a lot of their supporters that's a perfectly acceptable outcome tonight; they were gleeful over having their own goal disallowed. They were almost glad that Glasgow City won the title; they would evidently have preferred that to their own club finishing second to us.
We were well up against it today, and much of the watching world did not want us to get there.
It's all the more reason to be proud that we took it not only to the last day but to the very last minute of the last day, and to have it snatched away is brutal and torturous and it's a horrible way to grow and learn, but the motivation this will provide for next time … that will make the difference.
This team will win our club's title. That much we can say for sure.