We all know the level at which elements of the Scottish sporting media operate by now. But The Sun is one of the worst outlets out there, and for the last couple of days they have given acres of coverage to some of the nonsense that's being spouted about us in Israel and in the camp of the Israeli national team in particular.
Yesterday the focus was on their manager calling our fans antisemites, a charge which the club itself moved to refute after the issue was raised by this blog and several others.
Today, without offering any context, they have a headline which scream that it's Abada who "made" Celtic ban The Green Brigade. The paper knows that it garbage but headlines the story like that anyway.
"Celtic banned Green Brigade 'solely because of Liel Abada's actions'" this disgraceful piece shrieks.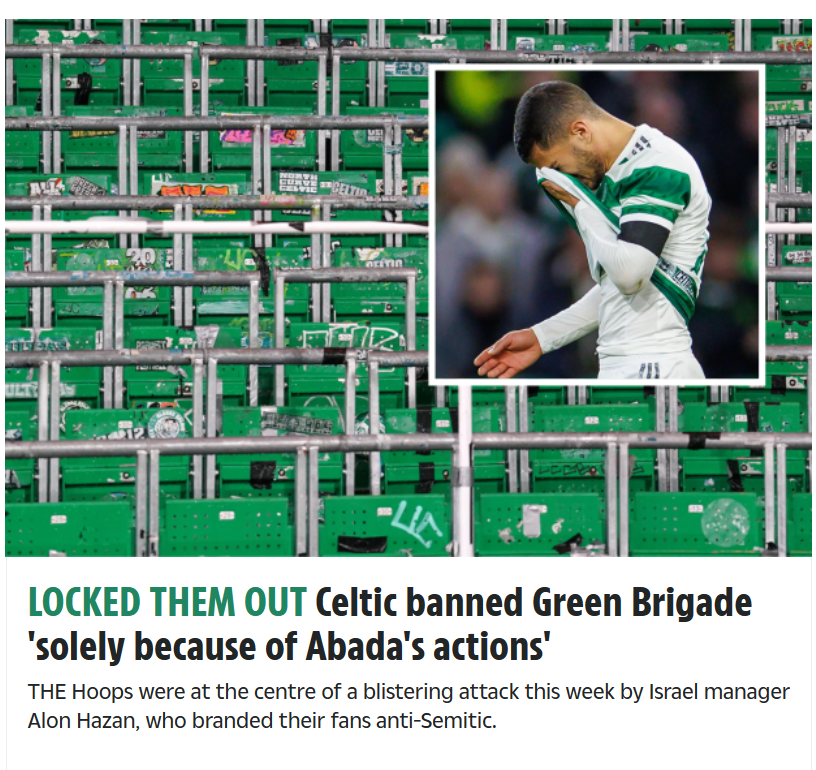 They know a lot of people won't click on that headline, and why should they? Most of us know what The Sun is and what a dire history it has.
Those who do click that headline will do so only because they want to know who has made such a wretched claim.
But I know from long personal experience that there are people who don't ever bother to read past the headline, and so that's clearly an effort to turn those people – and sadly there are more of them than I'm comfortable with – against the player.
It's blatant. It's shocking.
It's actually not even just an attempt to paint a target on Liel's back but is an attempt at actually manufacturing news rather than reporting it.
Because of course, if the view that it's Liel's fault that The Green Brigade got banned enters the public consciousness and the discourse, some people in our support just might boo him the next time he plays … and so that automatically lets that rag write another dire series of headlines.
I mean everything about that headline is disgraceful.
It's clear-cut soup-stirring and hate-mongering, nothing more.
There's no context presented, there's no clarification that this is yet another statement out of the rent-a-quote Israeli national team, where so many people seem to be colossally ignorant about goings on at our club.
The only reason that these nonsensical stories continue to circulate is that our fans haven't had any opportunity to definitively crush them, which we would in two seconds if Liel was fit and playing in the team.
I suspect he'll get the standing ovation to end them all when he makes his next appearance in the Hoops, and that'll do the job.
The irony, of course, is that it's the sheer unprofessionalism and carelessness of the Israeli national set-up which is responsible for his injury in the first place.
That hasn't stopped them running their mouths off, and of course nothing would stop The Sun trying to turn Celtic fans against their own club and the players in it.