In life you go through processes, paths if you will, to get to a final destination.
I do that when writing for this blog.
Not everything I write makes it onto here, just as not everything James writes does.
There is a process and that process is required to get the standards you want, if you care about standards … which a lot of folk in the game here don't.
Celtic cares about standards.
We know the importance of the process.
Part of the process now involves dealing with constant negativity.
Operation: Stop Celtic is in full swing.
We know it always is, that it has been for a while, but it's step up is now bordering on the comical.
We know that the slabbering over Gerrard and the Ibrox NewCo has been going on since he walked in through the doors at Ibrox, and the hype that has surrounded that utterly unimpressive Euro run, consisting mostly of draws draws and a lot of luck. It got them a third in the group.
But the press against us has been terrible.
First there's the continuous references to the summer.
Yes the transfer shambles was entirely our own fault and it was a big issue, but it has been blown out of proportion.
Then we started poorly.
Hearts got very physical with our players that day, and althuough we played poorly I don't believe their rough-housing deserved a win.
They were top. How exciting that was for the media!
Oooh Celtic are in trouble!
Let's all over react!
Then we were out of the Champions League.
Oooh what a disaster!
Shortly before it, King had said that one bad season would cause us to collapse like a house of cards.
And at that point, the media would have had you believe it was happening before our eyes.
Brown injured, Ntcham Injured, ooh what a crisis.
No cover. If only John McGinn had signed!
And at that point it's about the Ibrox NewCo and Hearts.
Then we had a good November; some said we had gotten lucky though.
Even before the month was a week old, I wrote a piece about those people, charting our alleged "luck."
But the way players like Christie and McGregor have come on shows an ability in coaching that was not pure luck, but exceptional planning,
I mean there is no way McGregor had been shown that position as a back up in training is there?
God, imagine our club had thought that far ahead!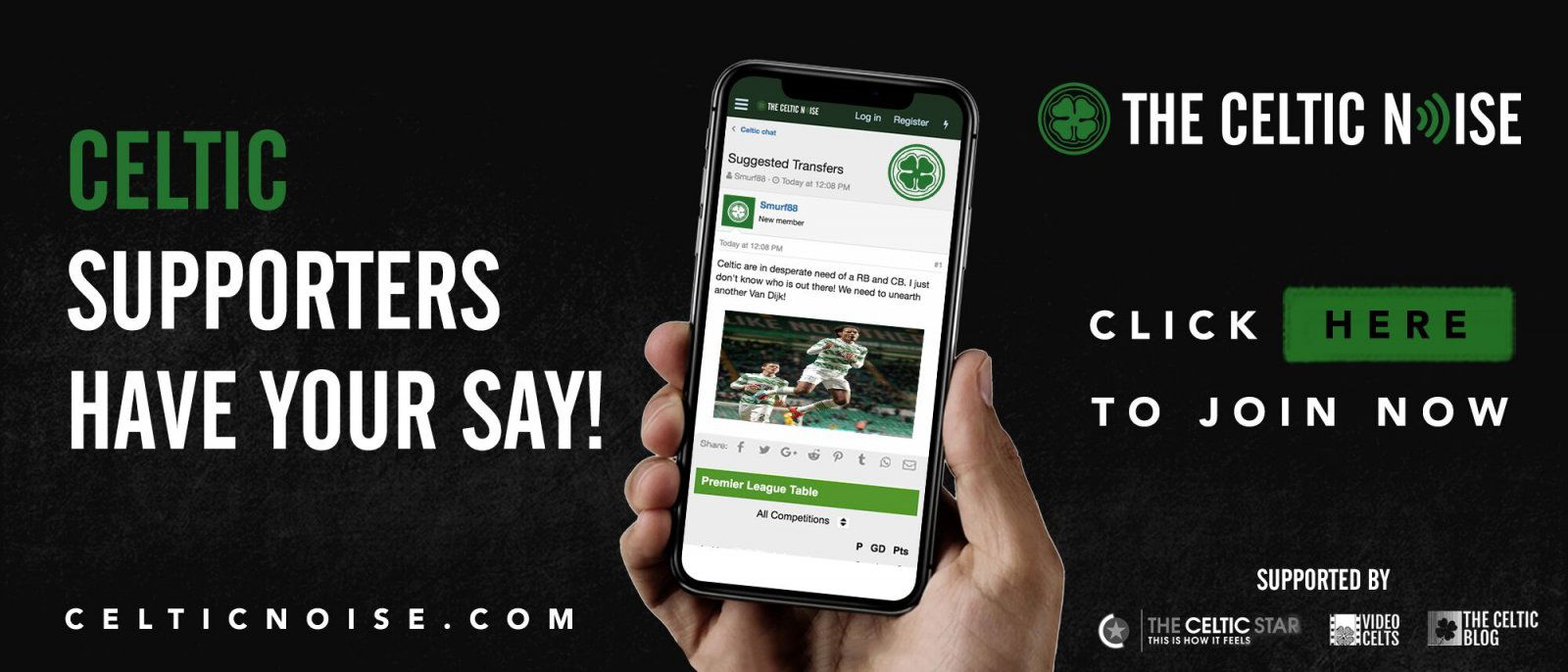 Yes, Christie may not have been there if the McGinn deal had happened, but Rogers sending him out to get him games, making sure put on weight and giving him the confidence that he could step up when required … all that was luck?
We won the cup, ugly as it was; that was lucky?
McInnes still thinks so today. Aberdeen deserved more, he says, even though they didn't attack.
Then the Ibrox NewCo go top, oh hooray! Celtic in trouble again! The league is finished!
Oops. It wasn't.
Beating Leipzig, getting three wins in the group … other teams would have got credit.
But we're told that it was a late goal by Rosenberg that got us through … more luck, nothing to do with our own good form.
Leipzig not doing as well as we did wasn't the issue … no this was "the greatest act of larceny in the history of European football."
That's a direct comment from Hugh Keevins, on Twitter on 13 December.
An act of larceny.
A quote from a Scottish journalist upon a Scottish club going through in Europe.
The bitterness, the needless spite, drips off the page.
All of it luck, even our being top of league after it all, after a poor start to the season.
Top of the league, with a game in hand.
Then Motherwell get a lucky draw, and the Ibrox NewCo are back on top, oh the slobbering, oh the joy, oh the nonsense … then oops.
And we're on top again.
Now the Glasgow derby is in sight, and the sensational headlines never stop …  oh poor Celtic; Edouard, Christie, Rogic … all out.
Crisis at Celtic.
Well two out of three ain't bad, right?
And all the while in the background, the transfer nonsense … Ntcham will go, until he signs a new deal.
Broony is leaving for Oz, at least until he signs one.
Calmac is going to the EPL … until he puts pen to paper for another five years.
But no problem, because football is about the future and Dembele will definitely not stay … except now he has.
You have to love our media at times, just not at times like this.
Celtic ignores it all.
Celtic marches on.
If this is luck, you have to hope that it continues into the New Year.
Because this isn't bad for a club who are always just one defeat away from a meltdown, right?
Dave Campbell is a blogger and Celtic fan from Glasgow, and he thinks we're all going to have a very Happy New Year.
You can discuss this and and all the other stories by signing up at the Celtic Noise forum at the above link. This site is one of the three that has pushed for the forum and we urge all this blog's readers to join it. Show your support for real change in Scottish football, by adding your voice to the debate.