Before I start with the football – bad enough, believe me – the elephant in the room has to be confronted and grabbed by the tail. Tonight a neddish halfwit who was in the ground "representing" our club threw something at a Salzburg player just after they had scored the opening goal.
I hope that person was identified by his fellow fans, dragged to a waiting police wagon and is currently contemplating the utter ruination of his life.
I have long been an advocate of the idea that if you disgrace yourself and our club in that sort of fashion that the UEFA fine, when it is inevitably levied, should come partly out of your pocket. Celtic ought to open a civil suit against that idiotic individual; settle it out of court, by all means, but the message has to be clear to anyone else who so completely disregards societal norms and decency, who acts so disgracefully, who cannot be trusted to behave.
One example is all it will take and our club will never have to deal with such criminality and gutter level behaviour again.
Now to the football. Craig Gordon has just said that he thinks we were "unlucky" to lose the second goal.
We weren't unlucky.
He was lucky Rosenborg scored.
Because he was staggeringly, scandalously lax in that moment. The manager approached him at full time and offered him some encouragement, but he makes these mistakes periodically. I would rather he acknowledged his own mistake rather than pretending not to realise what it was.
He should have stopped the first goal as well by the way.
Over the piece tonight, we were far, far, far below our best.
We were awful in fact.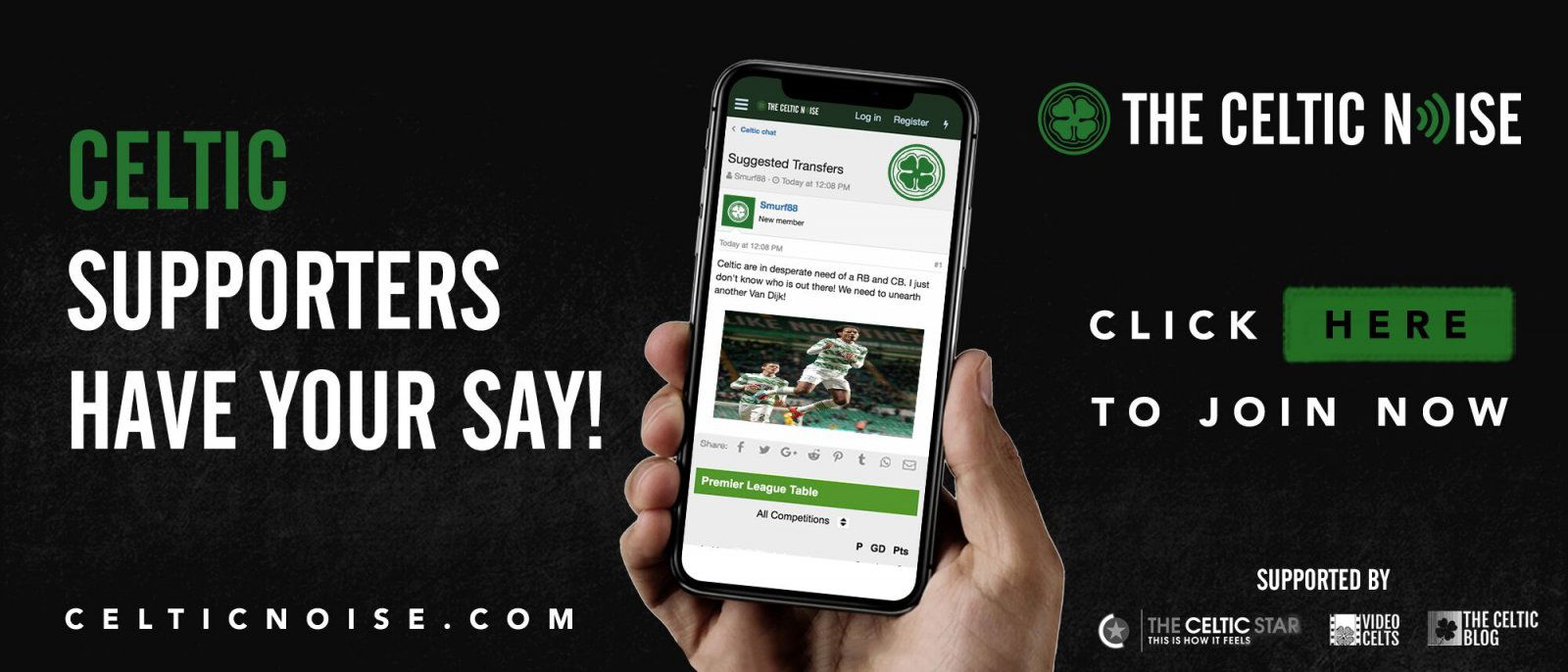 They are a very, very good team but we made them look vastly better than they are.
Excusing the defeats at the hands of the European elite – and Gibraltar – our worst three results in Europe under Brendan Rodgers, the three most shocking disappointments, have been at home; Anderlecht, Monchengladbach and here tonight. That is not good enough by a distance.
We are better than that. We are better than those displays, and especially that one tonight.
It is just so frustrating.
Whatever causes that, we better find a way to sort it out.
I would have been in a dark enough mood after that even without the injury to Ryan Christie.
To be honest, I'd have traded the place in the next round to have had that not happen.
I hope, sincerely, that it's not as bad as it looked. It looked bad. I have my fingers crossed for the kid, and for our team in December. His seven goals in ten games before tonight were a big part of why we're riding high at the top of the league.
With Leigh out for an indeterminate period Ryan gave us an option in the event of Odsonne getting injured.
If he's out for a long spell we're going to need to draft someone in. The performance, I could just about cope with, because of what happened in Norway. The idiot in the stand and the injury to our young midfielder are just awful. Tomorrow, if we hear that Ryan is not going to be out for a long time, I will feel one Hell of a lot better.
For all that, we are through. And you know what? To Hell with anyone who says we do not deserve it because nine points from six games is a very, very decent return and we have earned our place. The stats don't lie. A Bundesliga giant has managed a mere seven.
That's the measure of the achievement, and that's what it is.
This has been a night of negatives set right by one enormous, unexpected, positive.
A performance that was not good enough by a long, long way, capped by an horrendous goalkeeping error, a double injury of which one looks potentially serious and a vile piece of loutish behaviour from a fan … the Rosenborg result does not, in any way, erase those bad points.
But the club will deal with the latter clown, Ryan is part of a strong squad and we will cope in his absence, Gordon did make some excellent saves tonight and we can only play better than that. In the end, we got what we came for, the place in the last 32, and over the course of the campaign, if not on the night, we earned that and we deserved it.
Mixed emotions to say the least. I can't feel good about that because of the bad points.
Tomorrow, when things are a little clearer, I may feel a little bit better.
We're through, that should be what matters, but it seems the least of things at the moment.
You can discuss this and and all the other stories by signing up at the Celtic Noise forum at the above link. This site is one of the three that has pushed for the forum and we urge all this blog's readers to join it. Show your support for real change in Scottish football, by adding your voice to the debate.