Steve Conroy, the former ref, gave an interview to the BBC today in which he said that officials have to face "consequences" when they make major mistakes.
"There has to be consequences," he said, "whether you get a few games in the lower divisions to keep out the headlines, to give you a chance to reflect. That has to be much more open than it seems to be just now. It would be better if the Scottish FA accepted that people mistakes and come out and say that rather than just trying to deafen people with silence."
He is the perfect person to discuss this stuff.
In December 2011, he gave Rangers a penalty at Ibrox in a match against Dunfermline after Sone Aluko went down. The home side won the match 2-1 and afterward the Dunfermline manager called it a "disgrace of a decision."
An SFA panel later reversed it and banned Aluko for two matches. McCoist, who was the Ibrox boss at the time, had a meltdown over that.
He actually praised Conroy's performance in the match (of course).
But his support meant nothing to the man who had by then been a Grade One official for twelve years; Conroy was relegated to the lower leagues and spent three months there before he decided enough was enough and chucked it.
When you hear a story like that you can see that the SFA used to take seriously the issue of refs who made mistakes in games. Or they did with certain people anyway.
I'll let you draw your own conclusions about what was different in his case than in others; the rest of this article might offer a clue.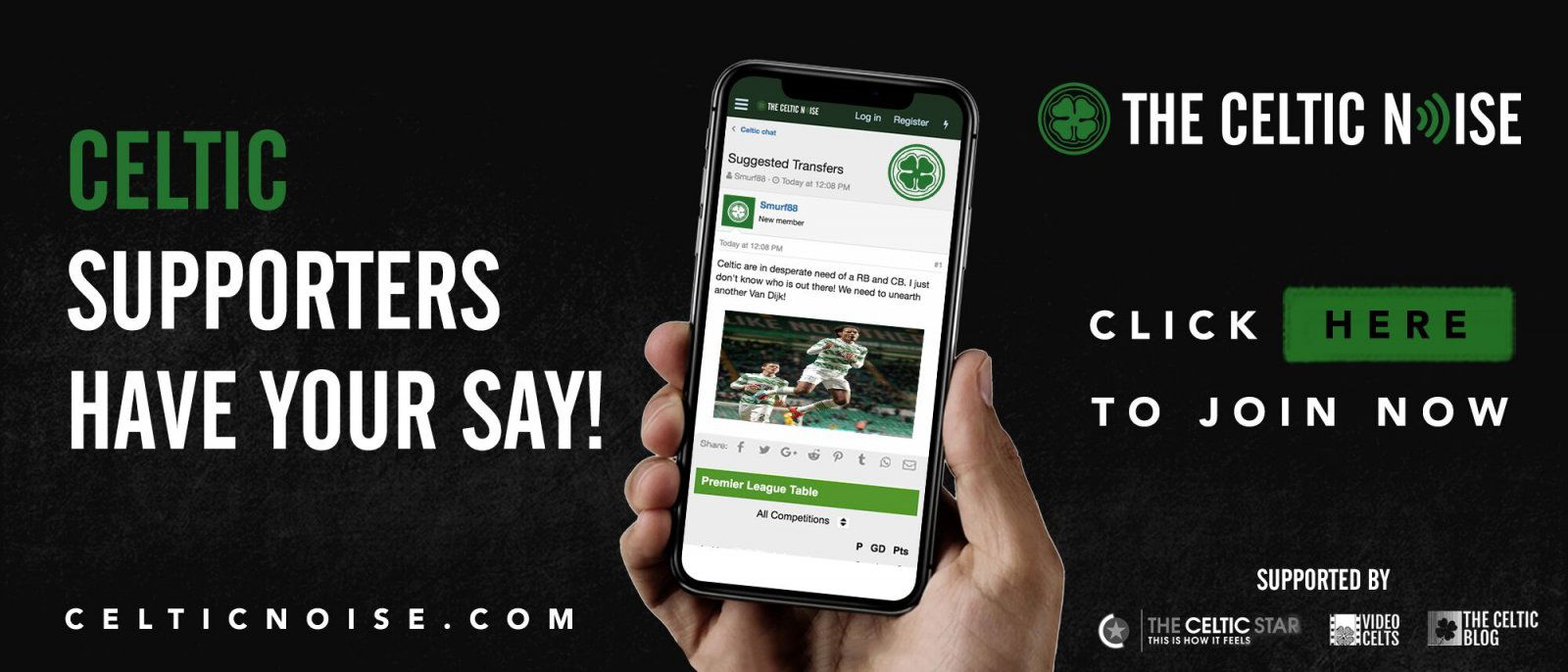 The BBC were right to go out and find someone with his experience and his understanding of how the system used to work. What made this article suspect, in more ways than one, was that they chose to end it with an absolutely un-necessary revelation.
"Conroy, a Celtic supporter, is open about his club allegiances but is "utterly convinced" that who a referee supports has no impact on their performances …"
And reading that I thought; "Excuse me?" Why the Hell is that relevant to what we're talking about here? Does the BBC suddenly think that's something the public needs to know? Conroy hasn't refereed since he quit.
It is a piece of information that brings precisely nothing to the discussion, and yet the BBC wasn't finished there; they would have gone much further.
Because the report also says this; "And, when asked if he knew of any other Celtic fans among officials, he replied: "I can't think of any.""
Which kind of begs the question, why in God's name was he ever asked that question in the first place?
What exactly is going on at the BBC?
Are they now in support of refs declaring allegiances, or is this a very specific witch-hunt they are on?
To even suggest on a BBC show that this is something Scottish football should be doing has long been greeted with scorn. But they do seem awfully keen on finding Celtic fans in the ranks at the moment, and I have to wonder why.
Ask them, though, if they think the policy should be the one they have in England and they'll sing a very different tune.
Celtic fans have very little affection for the national broadcaster. Tom English's grotesque interview last year with Kris Boyd was only one of the many reasons why; this published statement from Richard Gordon, the anchor on their football show, from just this weekend, is another;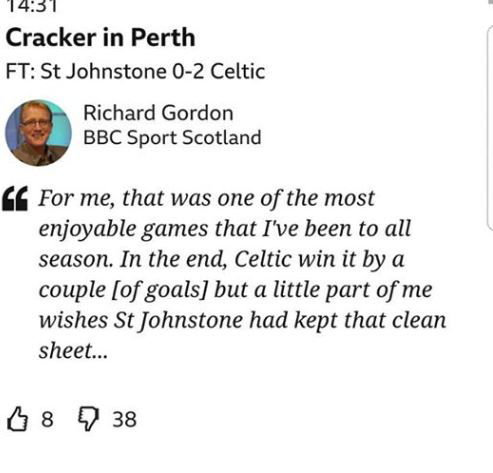 Impartiality is a little too much to ask for, I guess.
Kenny McIntyre ought to be asked to explain himself on this one though; his decision to inform those who weren't aware of it that Steve Conroy is a Celtic fan did nothing but blow smoke at a time when we need clarity; his question about whether Conroy knew of other Celtic fans in the refereeing ranks was a shocker, unless that organisation now supports such information being in the public domain.
And if they do, then they should come out and say it. They will have the support of this site and many others, and if it results in a change of policy we'll all be grateful for it. But I rather doubt that's what was behind this. I suspect it was just another squirrel being loosed.
How disgraceful.
When you loaded this piece you might have seen an option to get notifications; please subscribe to make sure that you never miss an important article again.
You can discuss this and and all the other stories by signing up at the Celtic Noise forum at the above link. This site is one of the three that has pushed for the forum and we urge all this blog's readers to join it. Show your support for real change in Scottish football, by adding your voice to the debate.