Brendan Rodgers walked out of a BBC interview yesterday for reasons that are obvious; he is sick and tired of having to answer the same question over and over again, and he's been getting that question relentlessly, endlessly, on a loop, for the past two years.
This is the question, stripped of all finesse; "When are you leaving Celtic?"
Once upon a time, they asked that question in the context of bigger clubs than now.
Once they said he would only have left Parkhead for a top six team; Arsenal, City, United, Liverpool, Chelsea or Spurs.
That seems like a logical progression, being that he's already been at one of those clubs and has admirers at Stamford Bridge and White Hart Lane.
But there have been high profile vacancies at three of those clubs – Manchester United, Arsenal and Chelsea – since he came to Parkhead; he was briefly linked with all of them. The Arsenal one was a particular favourite because the media got all excited when our majority shareholder seemed to suggest that it might be a goer; as I said at the time, all Dermot Desmond was doing was stating club policy and nobody should have been peeing their pants over it.
Club policy remains the same; Brendan can go and talk to whoever he wants.
We don't try to keep managers who want to leave any more than we would try to keep a player on the books who wanted to go. I disagree with elements of that policy, but at its core I get it because I want nobody at the club who hasn't got a commitment to the club.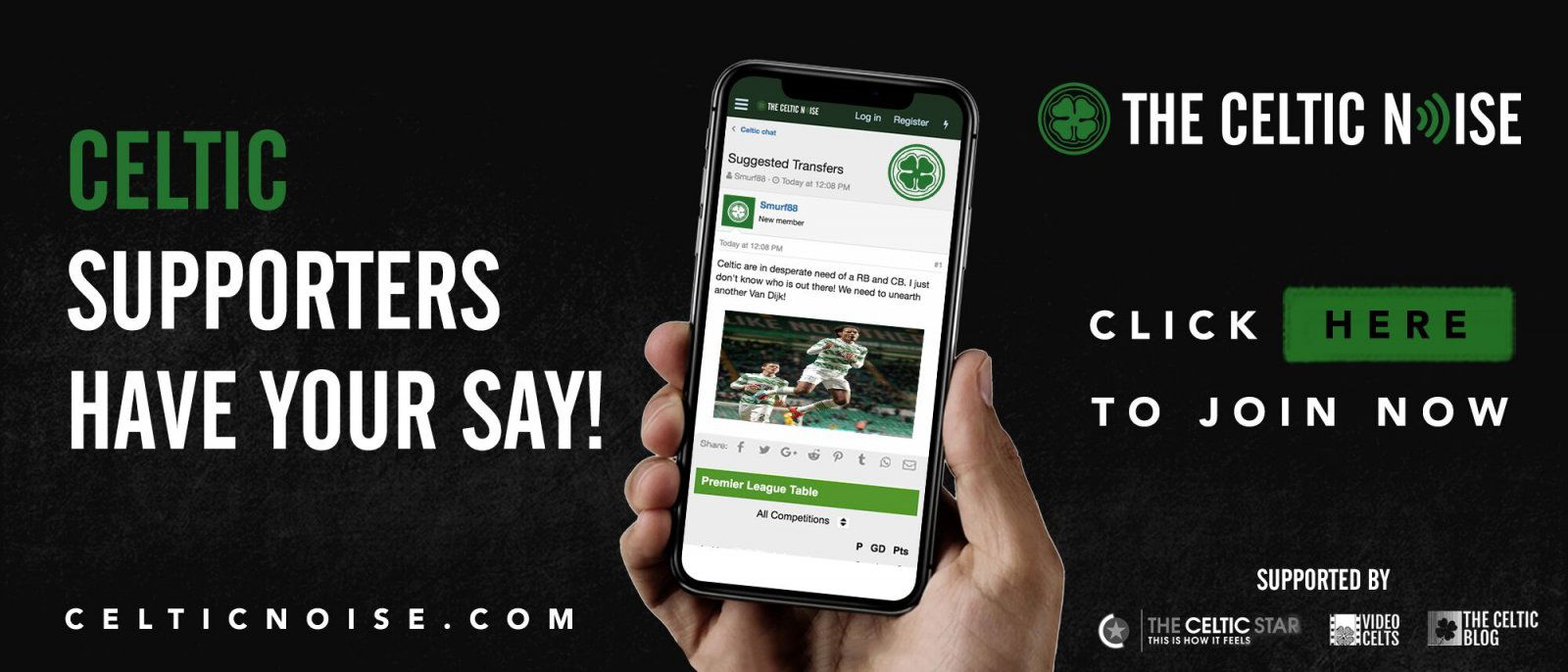 The media no longer thinks Brendan would only leave for one of those sides, which is handy as he told them he wasn't even interested in a move to Arsenal when that arose. But since then he has been linked with every job in that league, and it hasn't even mattered if the job was available or not. It reeks of a certain desperation in our media class … a desperation to see the back of the manager who has turned us into one of the most dominant domestic teams in the history of the game here.
And that's what this is about, and it's all that it's about. Leicester City is a managerial graveyard; indeed, so is much of the EPL, as Rodgers already knows by the way. And the truth, he has turned down better jobs than Leicester between leaving Liverpool and now.
And with the offer from China in the summer a known fact he's also turned down more money.
Am I saying that he'll stay no matter where the interest comes from?
No, because if a top six club made their move there'd be a decision to make and he'd have to make it. But I really don't see what the decision is here. We offer him more than Leicester City ever will in terms of where he wants to be in the game, and he knows what's right around the corner at Celtic.
Imagine you're Brendan Rodgers, struggling to hold onto your job at an EPL scrapper on the day Celtic clinches ten in a row and another manager takes that coveted place in our pantheon of heroes. You tell me; how are you going to feel?
Like you made the right call, or will that forever be a regret?
Nine in a row equals Jock's record.
Ten is a page in history all of your own.
Brendan is one of us; could any one of us turn down the opportunity that he has right now? Even for a Manchester United or Tottenham? That league will be there, waiting for him, in two years come what may, and if he goes at the end of that road then a big piece of Paradise will forever belong to him, as it does to the Lions and the other iconic figures, and that guarantees him immortality no matter what happens to his career elsewhere.
This guy is pig-sick of certain aspects of Scottish football, but it's not being a winner that bothers him it's the stalkers in the press box who chart his every move and are forever flinging these ridiculous questions at him. And why only Brendan? Is he the only sought after manager in the league here or what? Why isn't a certain other person who's allegedly turned off-brand generic cola into Classic Coke being touted for the big move to the top table?
And no, I don't mean Steve Clarke of course.
But you know what? I guess it's just possible that he's angry enough at certain people inside the club and the restrictions they've placed on him that he could be contemplating anything.
But again. Leicester?
In that scenario, I suggest he considers media reports from today that they might offer the job to Neil Lennon on a temporary basis; this is another ex-Celtic manager we're talking about here, and the idea that he'd be given a shot as caretaker whilst they wait for the man they really want tells you everything you need to know about their absolute disrespect for this league, for this club and for managers in general. Lennon would be crazy to do it.
The old wisdom says that the game has two types of managers; those who have been sacked and those who will be. Brendan's tasted it once, at Anfield … if he fancies a job at a regional Kilmarnock with less tolerance and patience than the Rugby Park board he should go right ahead and set up his interview, and end the uncertainty once and for all.
But like I said earlier, in two years' time, when another Celtic boss is holding the SPL trophy as the triumphant conqueror who made it ten in a row, you have to wonder where Brendan Rodgers would be. Not challenging for a title or even Europe, I'd wager.
It's a dead end shift, if it's a challenge it's one on the level of climbing Everest without oxygen.
It's for the crazy brave or the mugs.
Brendan is certainly no mug, so unless he's crazy I think you can count this one out.
Yeah, no wonder he walked away from the BBC yesterday … the question is an insult, and not just to Celtic.
When you loaded this piece you might have seen an option to get notifications; please subscribe to make sure that you never miss an important article again.
You can discuss this and and all the other stories by signing up at the Celtic Noise forum at the above link. This site is one of the three that has pushed for the forum and we urge all this blog's readers to join it. Show your support for real change in Scottish football, by adding your voice to the debate.