Chris Jack's press card says he is a journalist.
His job is with The Evening Times as a sports writer.
But in fact, we've long believed that Chris Jack is a fanzine level writer whose job is to do PR spin on behalf of the club at Ibrox.
I spend a lot of time as a blogger doing, frankly, very boring stuff, like research and finding links and going back over old pieces of work to find common threads or check facts and information. Yet it is a rare day when I post less than two articles.
(Next week I'm on holiday so there will be none; what's the betting that it's a huge news week with tons of stuff to write about?)
I work hard, and I know a lot of the other bloggers do too That's why I sometimes cannot believe that the mainstream media is filled with people who do so little work, and yet cannot even manage to get the basics right. Chris Jack is one of the worst for this.
Celtic fans have been giving him stick for nearly a week now, and they are quite right to, after his in-print column was published containing what I can only presume are invented quotes, from a manager bigging up the prospect of a game against the Ibrox club.
"Of course it would be a great tie if we could get (them) and Steven Gerrard and we are certainly in a strong position now after an important first leg win … but it's really important we don't start thinking about (them) and the next round. We still have an important job to do in the second leg."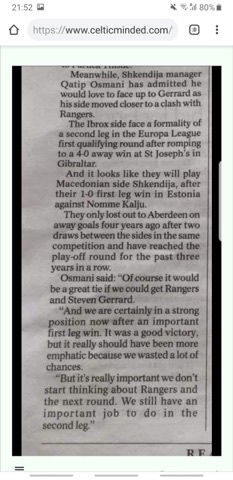 Relatively straightforward comments … but apparently pure fiction.
Because those words were allegedly spoken by the manager of KF Shkendija.
Which is very strange when you consider that the Macedonian club has no chance whatsoever of facing Gerrard or his team in the next round … as they are a Champions League team and have been drawn, provisionally at least, to play Celtic instead.

When confronted with this undisputable fact, Jack published the following tweet.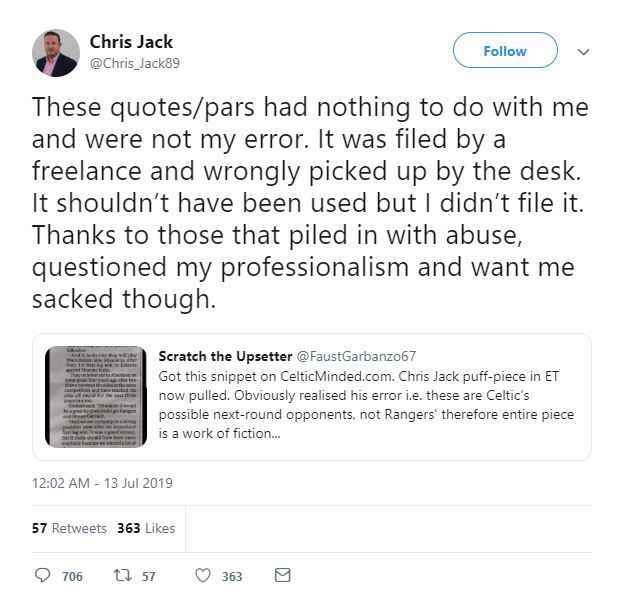 He means us, of course, Celtic fans, and there were a lot of them who piled in over this, and with very good reason.
His response is a remarkable – and pitiful – defence of the indefensible.
It doesn't matter who the author of those quotes actually was … they went out under Jack's name and it is an appalling indictment of his so-called "journalism" that he either didn't care about the veracity of them or didn't do the most basic check first to make sure everything in that column was up to snuff.
Jack, who is a frequent contributor to a well-known Ibrox fan podcast, is unquestioning in his slavish devotion to Dave King and his Ibrox board and writes about the club with what I could charitably call "an uncritical eye."
This is his own business, and that of the newspaper that actually employs him.
But he is not beneath attacking Celtic when he sees an opportunity, and that is our business.
For instance, his column last season on our captain Scott Brown was a shocker.
So too was another in which he raked over the coals of the previous referees strike … and seemed to hint that a future one would be Celtic's fault.
His famous piece on the SFA compliance officer attacked Celtic players, exonerated Ibrox players and pushed conspiracy theories.
Celtic fans are quite right to keep on him over this … and Phil's piece yesterday cut to the bone, and he followed it up with one today … he's another guy who works harder than anyone in the MSM does and who would never have allowed such shoddy work to go out with his name on it.
There are too many in the media like Jack, people who for years could take shots at our club without reply, whilst bigging up the one across the city without question.
They once had a veneer of respectability, they could once claim to have that "professionalism" Jack claims for his own.
Those days are over with.