Many Celtic fans enjoy Stan Collymore, both as a pundit and as one of the premier Celtic fans on Twitter. His outspoken attacks on the enemies of our club are a welcome tonic when that swamp is filled with the delusional and those who dwell in the gutter.
Collymore is a big voice in promoting our club.
A lot of our supporters wouldn't give him the time of day though.
The thing of it is, he actually understands that and more or less accepts it.
Stan Collymore hasn't always been a nice guy.
He puts it down to youth and a lot of life lessons he had to learn the hard way.
Even if you wanted to ignore that, it's not easy to do. You have to remember that footballers have been earning fortunes for years now and his was one of the first generation where if you were good enough to play at the EPL level you were guaranteed to make more money than you could ever reasonably spend.
At his age, surrounded by temptations and doubtless a lot of hangers-on, his ego being fed as readily as his bank-book, with good looking women everywhere and even TV personalities hanging on his every word, yeah … you can see how that might give someone the impression that the world did, in fact, revolve around them, enabling all their worst selves.
Without excusing it, you can definitely appreciate how it could happen.
Collymore has struggled with his demons for years.
Twice accused of beating up women, he's also been accused of dogging and a variety of high-jinks including the notorious La Manga incident which resulted in the entire Leicester City team – led by Martin O'Neill at the time – being kicked out of the Spanish resort and sent home. There was a spell in his life when he was a first-rate idiot.
He has also fought mental health issues for decades, and that doubtless explains a lot of his more suspect behaviour. His diagnosis is actually pretty scary; he said in his autobiography that he was told it was borderline personality disorder, which is serious stuff.
Ten percent of those who get that diagnosis kill themselves.
He has, thankfully, never fallen that far.
He gave an honest, and heartfelt, interview to the press the other day where he talked about the English midfielder James Maddison and his own struggles against the dark powers inside hishead, which are, Collymore says, having a detrimental effect on his career.
Collymore, speaking from experience, is trying to steer Maddison down the right path.
More power to him for that.
But Collymore then mentioned that he had a chance, after things in England came to a head, to move to Celtic Park but that Martin O'Neill, then our boss, didn't feel that the move was right for him.
You have to love O'Neill for knowing our club and for being a great man manager. Because he was right; that move was not right for Collymore, nor for Celtic.
It wouldn't have gone down well at our club the way Gascoigne went down at Ibrox; it is impossible to imagine us making an icon out of someone with Collymore's past, no matter his mental health issues. It wouldn't have worked. And even if we had been willing to overlook that colourful personal history the media would have crucified us for it.
They would also never have given Collymore a second's peace. He would have been stalked and hounded every day of his time here, until something snapped.
What I respect Collymore for is that he realises all of this himself. O'Neill didn't protect him from the hard truth of it, and he doesn't have any difficulty reading the writing on the wall. Furthermore, he knows too that by that point in his career he was past his best and our fans would not have tolerated his coming up here to coast it and earn a pension pot top-up.
All we can ask of people, I think, is that they acknowledge their mistakes and try to make up for them. I know Collymore has done a lot of soul-searching about his past behaviour and has spent an awful lot of time in his private life making amends for it.
It used to be that whenever he was interviewed, he would apologise for his past as if the interviewer was holding it over him; it was Collymore himself who was holding it over him, although he'd long since said sorry to all the people who matter.
When he talks about his depression and his issues these days he does it with a clarity, and bravery, that is frankly inspiring and oftentimes moving.
He speaks with real sense and conviction about how clubs treat players, and in particular youth players, and his tales of how dressing rooms are often toxic places for new kids breaking through echo stuff I've heard from other professionals and casts a dark shadow on rumours we will all have heard about the atmosphere Lennon allowed to take hold at our own club.
"I think you get hurt because when you play football as a kid," he told an interviewer in 2001, "all the teams you play in, they're all mates. I worked in a completely non-jealous, 100% productive environment as a young footballer."
And then he became a professional and walked into his first show-down with the seasoned pros, who treated him like shit. This is not an unfamiliar story, but he tells it with such openness and frankness that it makes you catch your breath a bit.
I have to say that I personally enjoy him. He is articulate, intelligent and passionate about the game and issues inside and outside of it. His opinions are unfiltered, which is what you would expect from a guy as smart as he is, and who knows it.
And yes, part of me wonders what a fully switched-on Stan Collymore could have done in a Celtic shirt had O'Neill taken the punt and gotten him to stay on the straight and narrow.
Regrets? We've all had a few and that might be one that our supporters are allowed.
But it was never going to happen, and most of us are glad that it didn't.
We aren't a club built for that sort of thing; it is inconceivable that we would ever have signed a Jon Flanagan, just as I would hate to think we'd take on a guy like Declan Gallagher after what he did.
I am glad we never got to go through that with Collymore, just as I'm glad to have him cheering us on from the side-lines. For all his baggage, he is a friend of football, an advocate for a better world and a more compassionate one, and he clearly loves our club and speaks of it, always, not only with enormous affection but the greatest of respect.
In time I've come to feel the same way about him. To use a good analogy, it would never have worked as a relationship, but as friends, yeah, I'm very comfortable with that.
Remember and vote on our Eddie Howe poll, folks … make your feelings known.
How Much Longer Should We Give Eddie Howe?
A few more days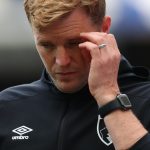 Middle of next week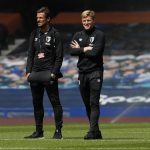 End it now and move on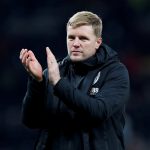 End of the season