And we're off and running folks! The first new signing – as opposed to simply confirming the players from last year – is in the building and the summer strengthening has begun. Not surprisingly, it is the goalkeeper Benjamin Siegrist.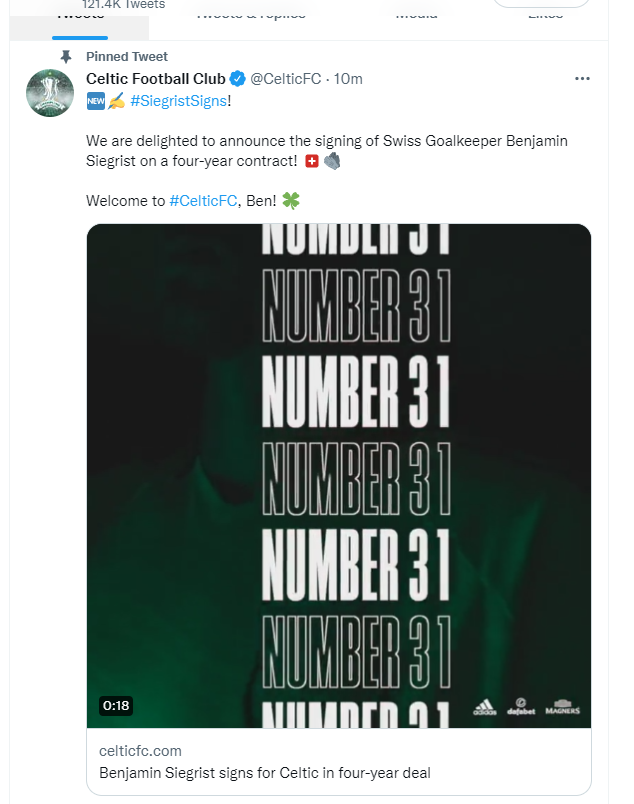 Celtic has just put it up on Twitter, confirming that the big Swiss keeper has signed a four year deal. This is great news because he was wanted by a couple of other clubs, including a few down south, and they were offering him a starting slot which is more than we can.
But those at Celtic have done an excellent job of selling the club and the vision to the player, and so it is no surprise that he's signed on the dotted line. This is where our business truly starts and with Jota expected to sign very soon we're now just awaiting the final word on the left back target and the defensive midfielder.
Are three players enough? The Rumour Guy said yesterday that we will probably go for a winger or striker, based on what the manager thinks the needs of the club are. I reckon he's right, and so even if we get those two deals over the line – as we should – then there's one more to go, at least. The club is seriously backing the manager in sanctioning £12 million plus of spending on the loanees and with these other deals in the pipeline that's serious money.
It is great that we're showing this kind of ambition and giving Ange the backing that his first season in charge justifies. The club is in a good place right now, and we're only going to get better and stronger as this window goes on.
I did say some weeks ago that there would be a brief flurry of activity, and then relative calm. Well, we're in the zone now folks and it's all looking good.
Think you know what happened last season? Take our quiz and find out!