It's not often that this site gives Tom English, or anyone at the BBC, a thumbs up but today he deserves it for shooting back at the idiotic comments from The Mooch about Ange being a "lucky" manager. This goes to show that even the media is getting sick of this joker and his phony posturing, and then shameless backtracking.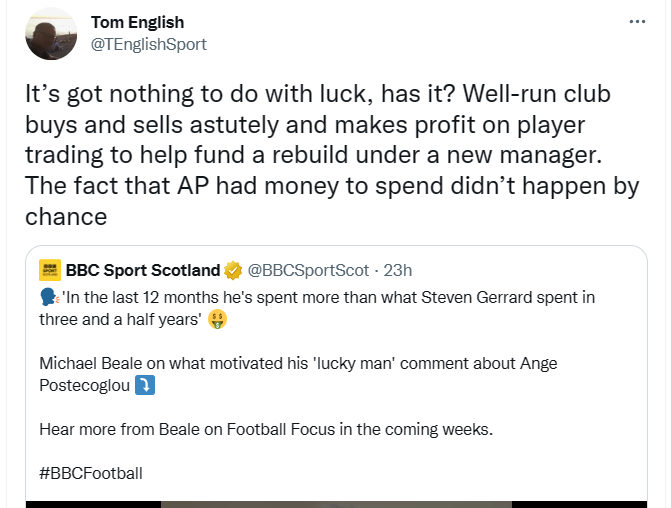 There is playing dumb and grabbing the Idiot Ball hard … The Mooch has made a major mistake with that comment.
As regular readers will know, I've been a Springsteen fan for about 25 years now, and The CelticBlog Facebook group admin team and I were laughing over which songs we should play at Celtic Park the next time The Mooch rolls into town and they were all some variation on "lucky." I suggested that at the end we blare out Lucky Town after we've crushed them.
There's a couple of lines in there which could be applied to The Mooch and his pal Gerrard; "I had some victory that was just failure in deceit, now the joke's coming up through the soles of my feet."
That's all the COVID Empty Ground Title Win was to these guys, a failure disguised as a victory, one that convinced them they were better than they are.
Let's put it in a little bit of perspective, since The Mooch himself brought this up.
When he talked the other day about how little Gerrard and he had to spend in comparison to what Ange did he invited the comparison from everyone. Once again, we're the only people willing to dig into that claim.
They were at Ibrox for three and a half seasons.
In that time, their net spend was over £25 million … it's a lot of money to spend on footballers in Scotland.
And what did that mammoth transfer kitty deliver for them?
A single league title, in a season where there were no fans allowed in the stadiums and every club in the country but our own was radically cutting back on their budgets.
Ange Postecoglou, with a total net spend of £6 million over two seasons – including today's fee for Juranovic – has already won a title, a League Cup and he has his hands on his second SPL trophy.
Who is kidding who on here?
Which club looks spendthrift and ridiculous?
English is right to talk about how we're a well-run club which raised every penny of the money the manager was given for his rebuild … but even that doesn't truly do justice to what Ange has achieved.
Most of Ange's net-spend came in the summer. This summer.
Ange won his SPL title and League Cup in a season which I initially wrote was revenue neutral but in which we actually posted a player trading profit of more than £8 million. Read that again; we posted a player trading profit last season … which makes what Ange did in rebuilding this squad with such quality a stunning achievement.
In that single campaign, whilst posting that profit, Ange won more than Gerrard and The Mooch did in the whole time they were at Ibrox, and they spent big. They won their title in their third season, which is a lot of lead time, and they were under no pressure in doing it. Ange turned our club around from being on its knees to win a title in his first campaign.
And if you want to talk about luck on their end, how about the luck of a season which was suspended at a time when he and his pal were on the brink of the sack? That was pretty lucky.
But the luckiest thing that ever happened to The Mooch and his mate was the offer from Villa which came at just the moment we were getting it together, and which allowed them to scamper away before Ange rolled over them.
The Mooch might not want to give Ange credit for his record – it would stick in his craw to give anyone at Celtic credit for anything – but he makes himself look like an utter fool in highlighting his and Gerrard's transfer spending to make that point, and English didn't even go so far as to point that out.
Not that I'm holding that against him, because it's good that he has at least called this clown out for the ridiculous suggestion that Ange is getting by on luck.
It is the first blast back at The Mooch from a mainstream hack.
I am convinced that it will be far from the last.
Indeed, every one of them should have called The Mooch out on those comments and pointed out the facts behind them. That none did, and that none has yet, shows you how poor our journalistic class is.